Look Inside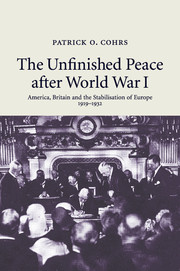 The Unfinished Peace after World War I

America, Britain and the Stabilisation of Europe, 1919–1932
$72.00 (C)
Author:

Patrick O. Cohrs

,

History and International Relations Department, Yale University
Date Published:

February 2008

availability:

Available

format:

Paperback

isbn:

9780521723435
Description
Product filter button
This is a highly original and revisionist analysis of British and American efforts to forge a stable Euro-Atlantic peace order between 1919 and the rise of Hitler. Patrick Cohrs argues that this order was not founded at Versailles but rather through the first 'real' peace settlements after World War I - the London reparations settlement of 1924 and the Locarno security pact of 1925. Crucially, both fostered Germany's integration into a fledgling transatlantic peace system, thus laying the only realistic foundations for European stability. What proved decisive was that key decision-makers drew lessons from the 'Great War' and Versailles' shortcomings. Yet Cohrs also re-appraises why they could not sustain the new order, master its gravest crisis - the Great Depression - and prevent Nazism's onslaught. Despite this ultimate failure, he concludes that the 'unfinished peace' of the 1920s prefigured the terms on which a more durable peace could be founded after 1945.

A major reappraisal of the international history of Europe from the Treaty of Versailles to the rise of Hitler
Offers a new, revisionist account of American and British attempts to forge a lasting peace after World War I
Will be essential reading for anyone interested in international history, international politics or international relations during the interwar period

Read more

Reviews & endorsements

"Patrick Cohrs' The Unfinished Peace after World War I brilliantly renews the genre of classic international history. Based on massive archival scholarship and elegantly written, his study focuses on American and British roles and asks why a stable European security system could not be consolidated between the Versailles Treaty and the advent of Hitler. Ultimately, he argues, it fell to London and Washington to help Paris and Berlin overcome distrust, nationalism, and impatience with the slow pace of mutual concessions. High stakes, alas, could not guarantee success, but failure was not foreordained. There are important lessons here for the Middle East and other regional conflicts. In the end there are no outsiders."
Charles S. Maier, Leverett Saltonstall Professor of History, Harvard University

"Historians have usually seen 1924–29 as no more than a temporary lull between the two storm periods of imposed "peace" settlements and bitter conflicts in 1919–23 and the Great Depression, destruction of Versailles, and rise of Hitler in 1929-33. Patrick Cohrs argues in this massively-researched, detailed study that the Dawes Plan, London Conference, and Locarno treaties of 1924–25 constituted instead a new Euro-Atlantic peace settlement and international system and established a new European concert. Under combined British-American aegis, both France and Germany adopted the spirit and politics of productive mutual compromise. What stunted and finally undermined the system was above all the failure of both hegemons, especially America, actively to support and develop it. Everyone who wants to understand this era, as well as the origins of World War II and the workings of modern international politics, must come to terms with this highly controversial but often illuminating and persuasive interpretation."
Paul W. Schroeder, Emeritus Professor, University of Illinois

"This is an ambitious book with a challenging thesis. It re-examines British and American policy towards Europe in the 1920s sympathetically, arguing that policy makers in both countries made a serious effort to promote peaceful solutions which reflected their values as well as national interests. The conclusions, which are well-documented, offer an important new interpretation of the period."
Jonathan Wright, Christ Church, University of Oxford

"Cohrs takes a refreshing and well-balanced perspective, striking a reasonable compromise between a variety of historical approaches … his study not only reveals a wide range of primary sources that bring to light a convincing revisionist interpretation of the early inter war period, but it also makes an important statement about the climate of international relations at the time … it is a masterpiece of research and one that should significantly change the way we see the inter war period."
Journal of British Studies

"Cohrs marshals an impressive amount of evidence for his assertion by mining archival resources in both public and private collections in the US, Britain, France, Germany, and the League of Nations. The primary research is backed up with a command of the voluminous secondary literature on this period."
Frederic Krome, American Jewish Archives/Hebrew Union College

"This is a highly original and thought-provoking book. Patrick Cohrs, adopting a systemic approach to his subject, argues that the Anglo-American agreements of 1923–5 laid the foundations for a stable peace in Europe and inaugurated an American-dominated Euro-Atlantic system that lasted until it was disrupted by the unprecedented world depression. … Cohrs' challenging thesis forces one to reconsider the process of European stabilisation in the 1920s, and to reassess the nature of the American contribution to its limited success."
The English Historical Review

"In this opus magnum the author has re-examined extensive archival holdings and private papers and … with an assured grasp of his subject provided an original interpretation …"
Historische Zeitschrift

"… as well as making a significant contribution to the scholarly debate about the 1920s, Cohrs' book also serves as a useful reminder of the difficulties that attend peacemaking, and the long-term commitment that is required to make it succeed."
Times Literary Supplement

"Patrick O. Cohrs offers a major reinterpretation of post–World War I international history … Much of the best scholarship on [this period] focuses on either European or transatlantic relations. To his credit, Cohrs combines both in his study of the Euro-Atlantic order. He places Locarno diplomacy of 1925–1929 - the new European concert - within a transatlantic framework."
American Historical Review

"Cohrs convincingly argues that we are wrong to view the 1920s as a decade of false dawns simply preordaining a decade when much worse was to follow. The book is especially important because a study that includes the American dimension to what many scholars have tended to view exclusively from a European perspective is long overdue."
History

"… Patrick O. Cohrs has contributed a mammoth study … In this fine revisionist work, Cohrs argues that European and American policy-makers … were able to create a viable transatlantic international order in the 1920s, which constituted an important accomplishment in the history of international relations and was not inexorably doomed to fail."
Peace and Change

"… there is no doubt that specialists of twentieth-century history, diplomatic history, and international politics, as well as scholars interested in research on the two world wars will find in it a lot to stimulate their reflection. All university libraries should naturally have a copy."
Antoine Capet, H-Diplo

"… a provocative thesis. … a book well worth reading …"
Carole Fink, Journal of Modern History

"In a remarkably accomplished [and] independent study … Cohrs explores one of the most important questions still facing historical research [on international politics in the period 1919–1932] … The book is impressive in its wealth of ground-breaking analyses, its overall conception and its exposition. One gains a lot from reading it."
Peter Krüger, Francia

See more reviews

Customer reviews

Not yet reviewed

Be the first to review

Review was not posted due to profanity

×

Product details

Date Published:

February 2008

format:

Paperback

isbn:

9780521723435

length:

708

pages

dimensions:

229 x 152 x 36 mm

weight:

1.1kg

contains:

1 map

availability:

Available

Table of Contents

Prologue: the truncated peace of Versailles and its consequences, 1919–23
1. The wider challenges: the legacy of the 'Great War' and the era of imperialism
2. Wilson, Lloyd George and the quest for a 'peace to end all wars'
3. The ill-founded peace settlement of 1919
4. The escalation of Europe's post-Versailles crisis, 1920–23
Part I. The Anglo-American Stabilisation of Europe, 1923–4:
5. Towards a progressive transformation of European politics: the reorientation of American stabilisation policy, 1921–3
6. Towards transatlantic co-operation and a new European order: the reorientation of British stabilisation policy, 1922–4
7. The turning point - the Anglo-American intervention in the Ruhr crisis
8. From antagonism to accommodation: the reorientation of French and German postwar policies, 1923–4
9. The two paths to the London conference: the Dawes process and the recasting of European international politics
10. The first 'real' peace settlement after World War 1: the London agreement of 1924 and the consequences of the 'economic peace'
Part II. Europe's Nascent Pax Anglo-Americana, 1924–5:
11. The dawning of a progressive Pax Americana in Europe?
12. Towards the Locarno pact - Britain's quest for a new European concert, 1924–5
13. Regression? US policy and the 'political insurance' of Europe's 'economic peace'
14. Beyond irreconcilable differences? German and French approaches to Locarno
15. The path to Locarno - and its transatlantic dimension
16. The second 'real' peace settlement after World War I: the Locarno conference and the emergence of a new concert of Europe
Part III. The Unfinished Transatlantic Peace Order: the system of London and Locarno, 1926–9
17. Sustaining peaceful change and stability - the challenges of the latter 1920s
18. Progressive visions and limited commitments: American stabilisation efforts in the era of London and Locarno
19. 'Reciprocity'? Britain as 'honest broker' in the Locarno system
20. The new European concert - and its limits
21. The quest for a 'final postwar agreement' at Thoiry
22. Towards a peaceful change of Polish-German relations?
23. Achievements and constraints - the European security system of the latter 1920s
24. No 'new world order' - the limits of the Kellogg-Briand Pact
25. Towards the young process - the final bid to fortify the system of London and Locarno
26. The last 'grand bargain' after World War I - the Hague Settlement of 1929
Epilogue
Conclusion.

Author

Patrick O. Cohrs, History and International Relations Department, Yale University
Patrick O. Cohrs is Associate Professor of History and International Relations at Yale University. Professor Cohrs received his doctorate from the University of Oxford in 2002. He has held fellowships at the Center for European Studies and the Kennedy School's Belfer Center for Science and International Affairs at Harvard University. Before moving to Yale, he was the Alistair Horne Fellow at St Antony's College, Oxford, and taught at Humboldt University Berlin. Professor Cohrs is currently working on a history of the Pax Americana which reappraises American aspirations for a 'new world order' from their origins to the Cold War and explores how far they contributed to the creation of a more legitimate international system. He teaches courses in modern international history, particularly on the United States and the world, the history of global, transatlantic and European international politics, and classic and new approaches to international history. He is one of the co-founders of the Yale International History programme.
Please note that this file is password protected. You will be asked to input your password on the next screen.
»
Proceed
You are now leaving the Cambridge University Press website. Your eBook purchase and download will be completed by our partner www.ebooks.com. Please see the permission section of the www.ebooks.com catalogue page for details of the print & copy limits on our eBooks.
Continue
×