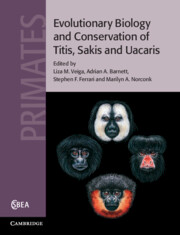 Evolutionary Biology and Conservation of Titis, Sakis and Uacaris
$168.00 (C)
Part of Cambridge Studies in Biological and Evolutionary Anthropology
Walter C. Hartwig, Adrian A. Barnett, Richard F. Kay, D. Jeffrey Meldrum, Masanaru Takai, Alfred L. Rosenberger, Marcelo F. Tejedor, Wilsea M. B. Figueiredo, Horacio Schneider, Stephen F. Ferrari, Maria L. Harada, José Maria C. Da Silva, José De Sousa E. Silva Júnior, John M. Bates, Rodrigo C. Printes, Leandro Jerusalinsky, Marcelo C. Sousa, Luis Reginaldo R. Rodrigues, André Hirsch, Marilyn A. Norconk, Brian W. Grafton, W. Scott McGraw, Eleonore Z. F. Setz, Liliam P. Pinto, Mark Bowler, Jean-Christophe Vié, Jean P. Boubli, Lesa C. Davis, Suzanne E. Walker-Pacheco, Paul A. Garber, Martin M. Kowalewski, Shawn M. Lehman, Suzanne Palminteri, George Powell, Krista Adamek, Raul Tupayachi, J. Márcio Ayres, Ghillean T. Prance, Bruna M. Bezerra, Nayara De Alcântara Cardoso, Christini Barbosa Caselli, Maria Juliana Ospina Rodríguez, Ricardo R. Santos, Liza M. Veiga, Thomas R. Defler, C. Barton, S. McCann-Wood, P. Puertas, Richard Bodmer, Marcela Oliveira, Helder Queiroz, Júlio César Bicca-Marques, Eckhard W. Heymann, Stefanie Heiduck, Mirjam N. Nadjafzadeh, Erwin Palacios, Adriana Rodríguez, Patricia C. Wright, Tatiana M. Vieira, Sarah A. Boyle, Andrew T. Smith, Wilson R. Spironello, Charles E. Zartman, E. P. Cunningham, A. L. Harrison-Levine, R. G. Norman, Cynthia L. Thompson, L. Tremaine Gregory, Eduardo Fernandez-Duque, Anthony Di Fiore, Ana Gabriela de Luna, Antonio S. Souto, Gareth Jones, Anthony B. Rylands, C. Portillo-Quintero, B. Urbani, Leila Porter, Wynlyn McBride, Janice Chism, Laura Marsh, Jesús Martinez, Hope Matthews, Diego G. Tirira, Marianela Velilla, Rob Wallace, José S. Silva Júnior, Manuella A. De Souza, Ana Luiza K. Albernaz, Marcelo M. Oliveira, J. Becker, A. Baker, T. Frampton, P. K. Pullen, K. L. Bales, S. P. Mendoza, W. A. Mason, J. Valsecchi, R. Bodmer, Marcio Port-Carvalho, Suleima S. B. Silva
View all contributors
Date Published:

May 2013

availability:

In stock

format:

Hardback

isbn:

9780521881586
Add to cart
Add to wishlist
Other available formats:
eBook
---
Looking for an examination copy?
If you are interested in the title for your course we can consider offering an examination copy. To register your interest please contact collegesales@cambridge.org providing details of the course you are teaching.
Description
Product filter button
The neotropical primate family Pitheciidae consists of four genera Cacajao (uacaris), Callicebus (titis), Chiropotes (bearded sakis) and Pithecia (sakis), whose 40+ species display a range of sizes, social organisations, ecologies and habitats. Few are well known and the future survival of many is threatened, yet pitheciines have been little studied. This book is the first to review the biology of this fascinating and diverse group in full. It includes fossil history, reviews of the biology of each genus and, among others, specific treatments of vocalisations and foraging ecology. These studies are integrated into considerations of current status and future conservation requirements on a country-by-country basis for each species. A state-of-the-art summary of current knowledge, Evolutionary Biology and Conservation of Titis, Sakis and Uacaris is a collective effort from all the major researchers currently working on these remarkable animals.

First-ever book to collate data on all four genera of pitheciine primates in a single volume
Author list embraces nearly every major researcher who has worked with the group, including the late Marcio Ayres, the founding father of pitheciine study
This is the first attempt to integrate evolutionary biology, behaviour, biogeography, ecology and conservation of the pitheciines, a little-known group of neotropical monkeys
Mixture of topic reviews and current research provides an invaluable body of information for both basic and applied research on the pitheciines

Read more

Reviews & endorsements

"This comprehensive volume, with contributions from 101 authors, reviews previous and ongoing research and outlines strategies for future investigations … Recommended. Upper-division undergraduates through professionals in primatology and biological anthropology."
E. J. Sargis, Choice

Customer reviews

Not yet reviewed

Be the first to review

Review was not posted due to profanity

×

Product details

Date Published:

May 2013

format:

Hardback

isbn:

9780521881586

length:

420

pages

dimensions:

282 x 223 x 24 mm

weight:

1.45kg

contains:

88 b/w illus. 25 colour illus.

availability:

In stock

Table of Contents

Contributor list
Part I. Fossil History, Zoogeography and Taxonomy of the Pitheciids:
1. Pitheciidae and other Platyrrhine seed predators
2. The misbegotten: long lineages, long branches and the interrelationships of Aotus, Callicebus and the Saki-Uacaris
3. A molecular phylogeography of the Uacaris (Cacajao)
4. Taxonomy and geographic distribution of the Pitheciidae
5. Zoogeography, genetic variation and conservation of the Callicebus personatus group
Part II. Comparative Pitheciid Ecology:
6. Morphological and ecological adaptations to seed predation - a primate-wide perspective
7. Pitheciines: use of time and space
8. Functional morphology and positional behaviour in the Pitheciini
9. Male cooperation in Pitheciines: the reproductive costs and benefits to individuals of forming large multimale/multifemale groups
10. Evolutionary ecology of the pitheciinae: evidence for energetic equivalence or phylogenetically structured environmental variation?
11. Competition between Pitheciines and large Ara macaws, two specialist seed-eaters
12. On the distribution of Pitheciine monkeys and Lecythidaceae trees in Amazonia
Part III. Genus Reviews and Case Studies:
13. Why we know so little: the challenges of fieldwork on the Pitheciids
14. Ecology and behaviour of Uacaris (genus Cacajao)
15. Annual variation in breeding success and changes in population density of Cacajao calvus ucayalii in the Lago Preto Conservation Concession, Peru
16. Cacajao ouakary in Brazil and Colombia: patterns, puzzles and predictions
17. Ecology and behaviour of titi monkeys (genus Callicebus)
18. Costs of foraging in the Southern Bahian Masked Titi Monkey (Callicebus melanochir)
19. Insectivory and prey foraging techniques in Callicebus - a case study of Callicebus cupreus and a comparison to other pitheciids
20. Seed eating by Callicebus lugens at Caparú Biological Station, on the lower Apaporis River, Colombian Amazonia
21. Callicebus in Manu National Park: territory, resources, scent marking and vocalizations
23. Feeding ecology of Uta Hick's Bearded Saki (Chiropotes utahickae) on a man-made island in southeastern Brazilian Amazonia: seasonal and longitudinal variation
24. The behavioural ecology of Northern Bearded Sakis (Chiropotes satanas chiropotes) living in forest fragments of Central Brazilian Amazonia
25. Ecology and behaviour of saki monkeys (genus Pithecia)
26. Finding the balance: optimizing predator avoidance and food encounters through individual positioning in Pithecia pithecia during travel
27. Testing models of social behaviour with regard to inter- and intra-troop interactions in free-ranging white-faced sakis
28. Comparative socioecology of sympatric, free-ranging white-faced and bearded saki monkeys in Suriname: preliminary data
29. Pair-mate relationships and parenting in Equatorial Saki Monkeys (Pithecia aequatorialis) and Red Titi Monkeys (Callicebus discolor) of Ecuador
30. Vocal communication in Cacajao, Chiropotes and Pithecia: current knowledge and future directions
Part IV. Conservation of the Pitheciids:
31. The Guyana Shield: Venezuela and the Guyanas
32. Pitheciid conservation in Ecuador, Colombia, Peru, Bolivia, and Paraguay
33. Brazil
34. Pitheciines in captivity: challenges and opportunities, past, present and future
35. The challenge of living in fragments
36. Communities and Uacaris: conservation initiatives in Brazil and Peru
Appendix - country factsheets
Index.

Editors

Liza M. Veiga, Universidade Federal do Pará, Brazil
Adrian Barnett is an Honorary Research Fellow at the Instituto National de Pesquisas da Amazonas in Manaus, Brazil, and at the Centre for Research in Evolutionary and Environmental Anthropology at Roehampton University. He is a tropical biologist whose research focuses on rare, little-known and hard-to-find species and has spent fifteen years studying tropical primates, particularly the conservation and ecology of uacaris.

Adrian A. Barnett, Roehampton University, London
Liza M. Veiga is a postdoctoral fellow at the Federal University of Pará and the Emílio Goeldi Museum, both in Belém, Brazil. Her research focuses on the conservation biology of the genus Chiropotes, Brazil.

Stephen F. Ferrari, Universidade Federal de Sergipe, Brazil
Stephen F. Ferrari is a Professor of Zoology in the Biology department of the Federal University of Sergipe, São Cristovão, Brazil. While his research covers a wide variety of mammalian taxa, he has a particular focus on the primate genera Callicebus and Chiropotes, their ecology and conservation.

Marilyn A. Norconk, Kent State University, Ohio
Marilyn A. Norconk is Professor of Anthropology at Kent State University, Kent, OH, USA. Her research focuses on behavioral ecology of South American monkeys, particularly feeding ecology and social behaviour of white-faced sakis and bearded sakis in Venezuela and Suriname.

Contributors

Walter C. Hartwig, Adrian A. Barnett, Richard F. Kay, D. Jeffrey Meldrum, Masanaru Takai, Alfred L. Rosenberger, Marcelo F. Tejedor, Wilsea M. B. Figueiredo, Horacio Schneider, Stephen F. Ferrari, Maria L. Harada, José Maria C. Da Silva, José De Sousa E. Silva Júnior, John M. Bates, Rodrigo C. Printes, Leandro Jerusalinsky, Marcelo C. Sousa, Luis Reginaldo R. Rodrigues, André Hirsch, Marilyn A. Norconk, Brian W. Grafton, W. Scott McGraw, Eleonore Z. F. Setz, Liliam P. Pinto, Mark Bowler, Jean-Christophe Vié, Jean P. Boubli, Lesa C. Davis, Suzanne E. Walker-Pacheco, Paul A. Garber, Martin M. Kowalewski, Shawn M. Lehman, Suzanne Palminteri, George Powell, Krista Adamek, Raul Tupayachi, J. Márcio Ayres, Ghillean T. Prance, Bruna M. Bezerra, Nayara De Alcântara Cardoso, Christini Barbosa Caselli, Maria Juliana Ospina Rodríguez, Ricardo R. Santos, Liza M. Veiga, Thomas R. Defler, C. Barton, S. McCann-Wood, P. Puertas, Richard Bodmer, Marcela Oliveira, Helder Queiroz, Júlio César Bicca-Marques, Eckhard W. Heymann, Stefanie Heiduck, Mirjam N. Nadjafzadeh, Erwin Palacios, Adriana Rodríguez, Patricia C. Wright, Tatiana M. Vieira, Sarah A. Boyle, Andrew T. Smith, Wilson R. Spironello, Charles E. Zartman, E. P. Cunningham, A. L. Harrison-Levine, R. G. Norman, Cynthia L. Thompson, L. Tremaine Gregory, Eduardo Fernandez-Duque, Anthony Di Fiore, Ana Gabriela de Luna, Antonio S. Souto, Gareth Jones, Anthony B. Rylands, C. Portillo-Quintero, B. Urbani, Leila Porter, Wynlyn McBride, Janice Chism, Laura Marsh, Jesús Martinez, Hope Matthews, Diego G. Tirira, Marianela Velilla, Rob Wallace, José S. Silva Júnior, Manuella A. De Souza, Ana Luiza K. Albernaz, Marcelo M. Oliveira, J. Becker, A. Baker, T. Frampton, P. K. Pullen, K. L. Bales, S. P. Mendoza, W. A. Mason, J. Valsecchi, R. Bodmer, Marcio Port-Carvalho, Suleima S. B. Silva
Please note that this file is password protected. You will be asked to input your password on the next screen.
»
Proceed
You are now leaving the Cambridge University Press website. Your eBook purchase and download will be completed by our partner www.ebooks.com. Please see the permission section of the www.ebooks.com catalogue page for details of the print & copy limits on our eBooks.
Continue
×