Look Inside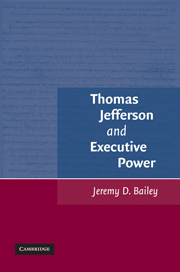 Thomas Jefferson and Executive Power
$47.99 (C)
Date Published:

March 2010

availability:

In stock

format:

Paperback

isbn:

9780521127387
Description
Product filter button
This book examines Thomas Jefferson's attempt to combine respect for a fundamental constitution with the fact that no set of laws can foresee every event. His solution to this problem offers a democratic, yet strong, alternative to the more common, Hamiltonian solution. Jefferson scholars have long written of 'two Jeffersons,' one before he became president and one after he became president. The first was opposed to a strong executive, while the second embraced one out of necessity. This book challenges this account. It presents Jefferson's understanding of executive power, which, though it developed over time, pointed to an executive that was both democratic and powerful.

Only book-length examination of Jefferson and executive power
Makes use of Jefferson sources that other Jefferson scholars have overlooked
Shows how Jefferson's thoughts were altered by events and how the presidency was changed by the interaction of the two

Read more

Reviews & endorsements

"Jefferson was acutely sensitive to the potential, even inevitable, contradiction between the exercise of presidential power and respect for popular democracy. As president he attempted their reconciliation, simultaneously practicing and innovating a strikingly original theory of politics. In the process, as Jeremy D. Bailey thoroughly and convincingly demonstrates, Jefferson created one of the strongest and most enduring ideational bulwarks of the modern presidency."
-Richard Bensel, Cornell University "In Thomas Jefferson and Executive Power, Jeremy Bailey challenges…the modern 'scholarly consensus.' Jefferson, according to Bailey, possessed and acted upon a coherent, comprehensive understanding of executive power that revolutionized the relationship of the presidency to American democracy…There is much going on here and much to learn. It requires close attention throughout to plumb the subtleties of Jefferson's words and actions and to fully appreciate Bailey's sensitive and nuanced interpretation. Readers will find it well worth the effort."
Joseph M. Bessette, Claremont McKenna College, Claremont Review of Books

"Jeremy Bailey has crafted an original understanding of executive leadership in the thought and practice of Thomas Jefferson, locating that praxis as an integral element of Jeffersonian constitutionalism. In doing so, Bailey pushes past conventional paradoxical frames—a strict constitutionalist whose political ambition and opportunism undercut that same constitutionalism. What emerges instead is a fresh portrait of an iconic American political leader, one engaged in a coherent project to reconcile the conflicting requirements of discretionary action, popular consent, and fundamental law, one committed to realizing a unified vision of constitutional democratic leadership. Along the way, Bailey also manages to situate Jeffersonian era innovations within the line of historical predicates leading to the development of the modern presidency and its repertoire of signature practices and justifications. This book is engaging, well researched, and well written. In all, it stands as an important contribution to a vast literature, one that can be fruitfully read by students of presidential leadership, American political development, and American constitutional thought."
-Scott C. James, University of California, Los Angeles

"A powerful, shrewd, and original study of Jefferson's idea of executive power, shown in theory and application. Jeremy Bailey covers the whole realm of the presidency in a book all students of American politics will want to read."
-Harvey Mansfield, Harvard University

"Jeremy Bailey's important new book will transform our understanding of Jefferson's presidency. By showing how Jefferson forged powerful new links between president and people and democratized prerogative powers, Bailey clarifies a complicated, confusing, and crucially important dimension of Jefferson's career. Thomas Jefferson and Executive Power also exposes and illuminates fundamental and enduring tensions in American constitutionalism. Bailey's book is an invaluable—and timely—contribution to the literature."
-Peter S. Onuf, University of Virginia

"Was there a Revolution in the United States in 1800, as Thomas Jefferson claimed? In contrast with Henry Adams and nearly all historians since, Jeremy D. Bailey thinks that there was, and he makes a powerful case in Jefferson's defense, arguing that as President he articulated in both theory and practice a new understanding of the executive power, strengthening the presidential office by making the executive the supreme exponent of popular opinion and by asserting broad executive discretion while deliberately making it responsible to popular judgment."
-Paul A. Rahe, University of Tulsa

"Lucid and systematic, Thomas Jefferson and Executive Power is indispensable for understanding how the American presidency built on democratic thought. With inspiring rhetoric and shrewd management, President Jefferson solved the problem of linking the president to the popular will by becoming the 'custodian of public opinion.' He built a presidency that was both strong and democratic, shaping the office all his successors have inherited."
David Robertson, University of Missouri – St. Louis

"To find consistency and integrity in Jefferson's approach to executive power is no mean feat. But this book delivers much more. Jeremy Bailey's analysis of Jefferson is an exploration of the different ways in which presidential power can be asserted and justified. By asking us to consider the difference between Jefferson's efforts to root presidential power in public opinion and Hamilton's efforts to root it in the constitutional text he speaks to some of the most pressing issues of our day."
-Stephen Skowronek, Yale University

"Thomas Jefferson was not only an important president. He was also an important theorist of the presidency. Jeremy Bailey has provided a much needed and insightful study of Jefferson's thought on executive power. It sheds light on the early republic, and on our own."
-Keith Whittington, Princeton University

"Jeremy Bailey sets out to correct a very old misapprehension about Jefferson and executive powers, to wit, that Jefferson was an enemy to an energetic and strong executive—in theory at least. Bailey persuasively shows that Jefferson had a theory of executive strength that (more or less) matched his practice, but that it was quite a different theory and practice from that great champion of executive power, Alexander Hamilton. Bailey persuasively agues that Jefferson first built a strong executive on democratic grounds, thus anticipating the transformation in the Presidency usually attributed to Andrew Jackson. At a time when we are once again pondering the nature of executive powers and limits, this is a book well worth the attention of all citizens."
Michael Zuckert, University of Notre Dame

"Bailey crafts an innovative, atypical, controversial view of Jefferson's exercise of executive power . . . pushes aside the traditional portrayals of Jefferson . . . adds a timely piece to the puzzle of presidential power, and provides important new scholarship about the iconic Jefferson."
-Choice

"Jeremy D. Bailey has accomplished something truly remarkable. In Thomas Jefferson and Executive Power, he has thoroughly and convincingly overturned the received historical wisdom....pathbreaking"
-Presidential Studies Quarterly

"...timely and highly readable...There will be more books on Jefferson, but this is the best among the recent offerings."
-The Federal Lawyer

"...stands alone against Henry Adams's Jefferson, and wins...Bailey's Jefferson solves one of the puzzles at the heart of Jefferson's intellectual and political life...Bailey's understanding of Jefferson's executive power is so persuasive that it changes the question from what Jefferson actually thought to whether he was right about what he actually thought."
-Benjamin A. Kleinerman, Review of Politics

"Jeremy Bailey has written a fine analysis of [Thomas] Jefferson's theory and practice of presidential leadership that is relevant for the contemporary presidency."
-Erwin C. Hargrove, Vanderbilt University, Congress & the Presidency

"[A] tightly written text."
-Douglas A. Ollivant, ISAF Counterinsurgency Advisory/Assistance Team, Perspectives on Politics

See more reviews

Customer reviews

Not yet reviewed

Be the first to review

Review was not posted due to profanity

×

Product details

Date Published:

March 2010

format:

Paperback

isbn:

9780521127387

length:

296

pages

dimensions:

235 x 155 x 15 mm

weight:

0.43kg

availability:

In stock

Table of Contents

1. 'The execution of laws is more important than the making of them': reconciling executive energy with democracy
2. Executive power and the Virginia executive
3. Executive power and the constitution of 1787
4. 'To place before mankind the common sense of the subject': declarations of principle
5. The real revolution of 1800: Jefferson's transformation of the inaugural address
6. To 'produce a union of the powers of the whole': Jefferson's transformation of the appointment and removal powers
7. The Louisiana Purchase
8. To 'complete their entire union of opinion': the twelfth amendment as amendment to end all amendments
9. 'To bring their wills to a point of union and effect': declarations and presidential speech
10. Development and difficulties.

Author

Jeremy D. Bailey, University of Houston
Jeremy D. Bailey is Assistant Professor of Political Science at the University of Houston. He was the co-winner of the 2004 APSA E. E. Schattschneider Award for best dissertation in American politics written in 2002 or 2003 and has received fellowships from the International Center for Jefferson Studies at Monticello and the Institute for Human Sciences in Vienna.
Please note that this file is password protected. You will be asked to input your password on the next screen.
»
Proceed
You are now leaving the Cambridge University Press website. Your eBook purchase and download will be completed by our partner www.ebooks.com. Please see the permission section of the www.ebooks.com catalogue page for details of the print & copy limits on our eBooks.
Continue
×