Look Inside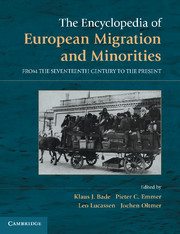 The Encyclopedia of European Migration and Minorities

From the Seventeenth Century to the Present
$38.00 USD
Klaus J. Bade, Pieter C. Emmer, Leo Lucassen, Jochen Oltmer, Dirk Hoerder, Jan Lucassen, Knut Kjeldstadli, Kenneth Lunn, William J. Smyth, Frank Caestecker, Leslie Page Moch, Sylvia Hahn, Marc Vuilleumier, Federica Bertagna, Marina Maccari-Clayton, Horst Pietschmann, Michael Garleff, Dorota Praszałowicz, Hermann Zeitlhofer, Holm Sundhaussen, Richard Hellie, Frank Golczewski, Martin Papenheim, David Killingray, William D. Phillips, Jr, Sophie Dulucq, Phil Vasili, Ulrike Schuerkens, Peter Bartl, Jean-Jacques Jordi, Christian Th. Müller, Markus Walz, Nancy L. Green, Cármen Maciel, Tessa Hofmann, Stefi Jersch-Wenzel, Barbara Dietz, Mathias Beer, Abel Poitrineau, Michaël Amara, Alexander Schunka, Klaus Weber, Didier Guyvarc´h, Karen O'Reilly, Cátia Antunes, Michael Schaich, Michel Cotte, Grete Brochmann, Detlef Brandes, Dóris Pires, Volker Seresse, Claudio Bolzman, Nora Wang, Mette Thunø, Pál Nyíri, Antonella Ceccagno, Flemming Christiansen, Liang Xiujing, Nora Wang, Otto G. Schindler, Anne Morelli, Katrin Boeckh, Panikos Panayi, Monika Glettler, Jaroslav Vaculík, Andreas Wiedemann, Dušan Šimko, J. Otto Pohl, Frank Caestecker, Dagmar Freist, Annemarie Cottaar, Wim Willems, Corrie van Eijl, Joost Rosendaal, Paul A. Harris, Trude Maurer, David Feldman, Nancy L. Green, Rutvica Andrijasevic, Detlef Müller-Mahn, Nicholas Canny, Ton Hoenselaars, Wim Lefebvre, Sofie De Caigny, Erik Buyst, Ronald G. Asch, Matthew Kott, Harald Runblom, Isabel Heinemann, Christian Kesteloot, Mathis Leibetseder, Birgit Emich, Hannes Leidinger, Verena Moritz, Erich Pelzer, Gian Paolo Brizzi, Virginia O. del Rosario, Frank Caestecker, Eddy Stols, Carl Strikwerda, Ulrich Herbert, Einar Niemi, Klaus Weber, Daniel Schönpflug, Michael Schubert, Michael John, Klaus Schriewer, Claudia Curio, Erika Kuijpers, Hans-Ulrich Thamer, Mathias Beer, Stefan Manz, Hannelore Oberpenning, Barbara Henkes, Klaus Weber, Dittmar Dahlmann, Arnd Bauerkämper, Helge Heidemeyer, Karel Davids, Detlef Brandes, Márta Fata, Sergei Zhuravlev, Eckard Michels, Greta Devos, Hilde Greefs, Raingard Eßer, Hans Vermeulen, Erik-Jan Zürcher, Theodoros Lagaris, Ioannis Zelepos, Renate Zedinger, Matthias Asche, Jan Willem ten Doesschate, Roger Ballard, Halleh Ghorashi, Louis M. Cullen, Donald M. MacRaild, Margaret Ó hÓgartaigh, Patrick Fitzgerald, Laure Teulières, Michael C. Maurer, Anton Schindling, Frank Bovenkerk, Loes Ruland, René Del Fabbro, Yvonne Rieker, Markus Walz, Rolf Wörsdörfer, Marc Vuilleumier, Elda Gentili Zappi, John Zucchi, Marie-Claude Blanc-Chaléard, Günther Pallaver, Christoph von Ehrenstein, Birgit Emich, Wolfgang Benz, Yvonne Kleinmann, Diane Frost, Melvin Walker, Birgit Ammann, Einar Niemi, Rosa Aparicio Gómez, Marie-Louise Janssen, Oliver Jens Schmitt, Piet Lourens, Ulrich Mehlem, Adrian von Arburg, Stefi Jersch-Wenzel, Natasja Peeters, Henk Smeets, Dietrich Meyer, Myriam Cherti, Mohand Tilmatine, Ernst Schubert, Valeria Heuberger, Raingard Eßer, Wolfgang Nikolaus Rappert, Alison Shaw, Mark Häberlein, Felicitas Hillmann, Jens Thiel, Brian McCook, Ewa Morawska, Jerzy W. Borejsza, Husnija Kamberovic, Norbert Cyrus, Peter Widmann, Marcelo J. Borges, Cármen Maciel, Pascal Goeke, Eric Lohr, Ralph Tuchtenhagen, Karl Schlögel, Béatrice Ziegler, Silvia Bolliger, Klaus Gestwa, Michael G. Esch, Hartmut Rüdiger Peter, Gijs Kessler, Charlotte E. Haver, Martin Zürn, Annemarie Steidl, Steve Murdoch, Andreas Kossert, Jessica V. Roitman, Carl Bethke, Carolin Leutloff-Grandits, Karl Kaser, Rolf Wörsdörfer, John Foot, Hans Oversloot, Dietrich Thränhardt, Raymond Fagel, Jean-François Berdah, Martin Papenheim, Damaris Lüthi, Jan Eivind Myhre, Claudius H. Riegler, Per-Olof Grönberg, Stefan Kroll, Alain-Jacques Czouz-Tornare, Matthias Asche, Jane Helleiner, Yasemin Karakaşoğlu, Reinhold Reith, Roman Spiss, Kerstin S. Jobst, Detlef Brandes, Ida Simon-Barouh, Sanda Gruner-Domić, Olaf Beuchling, Martin Bossenbroek, Pascal Goek
View all contributors
Date Published:

March 2012

availability:

This ISBN is for an eBook version which is distributed on our behalf by a third party.

format:

Adobe eBook Reader

isbn:

9781139006149

Find out more about Cambridge eBooks
$
38.00 USD
Adobe eBook Reader
You will be taken to ebooks.com for this purchase
Buy eBook
Add to wishlist
---
Looking for an inspection copy?
This title is not currently available on inspection
Description
Product filter button
Although migration and integration have become important concepts today as a result of globalization, migration movements, integration, and multiculturalism have always been part of the history of Europe. Few people realize how many ethnic groups participated in migration within Europe or into Europe and this ignorance has grave consequences for the social and political status of immigrants. Newly available to an English-speaking audience, this encyclopaedia presents a systematic overview of the existing scholarship regarding migration within and into Europe. The first section contains survey studies of the various regions and countries in Europe covering the last centuries. The second section presents information on about 220 individual groups of migrants from the Sephardic Jews emigration from Spain and Portugal in the sixteenth and seventeenth centuries to the present-day migration of old-age pensioners to the holiday villages in the sun. The first resource of its kind, The Encyclopaedia of Migration and Minorities in Europe is a comprehensive and authoritative research tool.

A unique resource for scholars and researchers - there are no other publications with a comparable scope
Argues that migration has been an integral part of the history of Europe, providing detailed analysis of immigration in a wide variety of European countries
Reveals the variety of patterns of integration exhibited by various groups after migration

Read more

Reviews & endorsements

'… a volume whose essays and lists of further reading should offer a useful starting point for a wide public.' Peter Wellburn, Reference Reviews

Customer reviews

Not yet reviewed

Be the first to review

Review was not posted due to profanity

×

Product details

Date Published:

March 2012

format:

Adobe eBook Reader

isbn:

9781139006149

contains:

80 b/w illus. 16 maps 56 tables

availability:

This ISBN is for an eBook version which is distributed on our behalf by a third party.

Table of Contents

The encyclopaedia: idea - concept - realization Klaus J. Bade, Pieter C. Emmer, Leo Lucassen and Jochen Oltmer
1. Terminologies and concepts of migration research Dirk Hoerder, Jan Lucassen and Leo Lucassen
2. Countries
3. Groups
Appendices.

Editors

Klaus J. Bade, Universität Osnabrück
Klaus J. Bade is Professor Emeritus of Modern History at the Institute for Migration Research and Intercultural Studies (IMIS), University of Osnabrück, Germany, and Chair of the Expert Council of German Foundations on Integration and Migration, Berlin, Germany.

Pieter C. Emmer, Universiteit Leiden
Pieter C. Emmer is Professor Emeritus in the History of European Expansion at the University of Leiden in the Netherlands.

Leo Lucassen, Universiteit Leiden
Leo Lucassen is Full Professor of Social History at Leiden University, where he also coordinates the profile area 'Global Interactions: People, Culture and Power'.

Jochen Oltmer, Universität Osnabrück
Jochen Oltmer is Associate Professor for Modern History at the Institute for Migration Research and Intercultural Studies (IMIS), University of Osnabrück.

Contributors

Klaus J. Bade, Pieter C. Emmer, Leo Lucassen, Jochen Oltmer, Dirk Hoerder, Jan Lucassen, Knut Kjeldstadli, Kenneth Lunn, William J. Smyth, Frank Caestecker, Leslie Page Moch, Sylvia Hahn, Marc Vuilleumier, Federica Bertagna, Marina Maccari-Clayton, Horst Pietschmann, Michael Garleff, Dorota Praszałowicz, Hermann Zeitlhofer, Holm Sundhaussen, Richard Hellie, Frank Golczewski, Martin Papenheim, David Killingray, William D. Phillips, Jr, Sophie Dulucq, Phil Vasili, Ulrike Schuerkens, Peter Bartl, Jean-Jacques Jordi, Christian Th. Müller, Markus Walz, Nancy L. Green, Cármen Maciel, Tessa Hofmann, Stefi Jersch-Wenzel, Barbara Dietz, Mathias Beer, Abel Poitrineau, Michaël Amara, Alexander Schunka, Klaus Weber, Didier Guyvarc´h, Karen O'Reilly, Cátia Antunes, Michael Schaich, Michel Cotte, Grete Brochmann, Detlef Brandes, Dóris Pires, Volker Seresse, Claudio Bolzman, Nora Wang, Mette Thunø, Pál Nyíri, Antonella Ceccagno, Flemming Christiansen, Liang Xiujing, Nora Wang, Otto G. Schindler, Anne Morelli, Katrin Boeckh, Panikos Panayi, Monika Glettler, Jaroslav Vaculík, Andreas Wiedemann, Dušan Šimko, J. Otto Pohl, Frank Caestecker, Dagmar Freist, Annemarie Cottaar, Wim Willems, Corrie van Eijl, Joost Rosendaal, Paul A. Harris, Trude Maurer, David Feldman, Nancy L. Green, Rutvica Andrijasevic, Detlef Müller-Mahn, Nicholas Canny, Ton Hoenselaars, Wim Lefebvre, Sofie De Caigny, Erik Buyst, Ronald G. Asch, Matthew Kott, Harald Runblom, Isabel Heinemann, Christian Kesteloot, Mathis Leibetseder, Birgit Emich, Hannes Leidinger, Verena Moritz, Erich Pelzer, Gian Paolo Brizzi, Virginia O. del Rosario, Frank Caestecker, Eddy Stols, Carl Strikwerda, Ulrich Herbert, Einar Niemi, Klaus Weber, Daniel Schönpflug, Michael Schubert, Michael John, Klaus Schriewer, Claudia Curio, Erika Kuijpers, Hans-Ulrich Thamer, Mathias Beer, Stefan Manz, Hannelore Oberpenning, Barbara Henkes, Klaus Weber, Dittmar Dahlmann, Arnd Bauerkämper, Helge Heidemeyer, Karel Davids, Detlef Brandes, Márta Fata, Sergei Zhuravlev, Eckard Michels, Greta Devos, Hilde Greefs, Raingard Eßer, Hans Vermeulen, Erik-Jan Zürcher, Theodoros Lagaris, Ioannis Zelepos, Renate Zedinger, Matthias Asche, Jan Willem ten Doesschate, Roger Ballard, Halleh Ghorashi, Louis M. Cullen, Donald M. MacRaild, Margaret Ó hÓgartaigh, Patrick Fitzgerald, Laure Teulières, Michael C. Maurer, Anton Schindling, Frank Bovenkerk, Loes Ruland, René Del Fabbro, Yvonne Rieker, Markus Walz, Rolf Wörsdörfer, Marc Vuilleumier, Elda Gentili Zappi, John Zucchi, Marie-Claude Blanc-Chaléard, Günther Pallaver, Christoph von Ehrenstein, Birgit Emich, Wolfgang Benz, Yvonne Kleinmann, Diane Frost, Melvin Walker, Birgit Ammann, Einar Niemi, Rosa Aparicio Gómez, Marie-Louise Janssen, Oliver Jens Schmitt, Piet Lourens, Ulrich Mehlem, Adrian von Arburg, Stefi Jersch-Wenzel, Natasja Peeters, Henk Smeets, Dietrich Meyer, Myriam Cherti, Mohand Tilmatine, Ernst Schubert, Valeria Heuberger, Raingard Eßer, Wolfgang Nikolaus Rappert, Alison Shaw, Mark Häberlein, Felicitas Hillmann, Jens Thiel, Brian McCook, Ewa Morawska, Jerzy W. Borejsza, Husnija Kamberovic, Norbert Cyrus, Peter Widmann, Marcelo J. Borges, Cármen Maciel, Pascal Goeke, Eric Lohr, Ralph Tuchtenhagen, Karl Schlögel, Béatrice Ziegler, Silvia Bolliger, Klaus Gestwa, Michael G. Esch, Hartmut Rüdiger Peter, Gijs Kessler, Charlotte E. Haver, Martin Zürn, Annemarie Steidl, Steve Murdoch, Andreas Kossert, Jessica V. Roitman, Carl Bethke, Carolin Leutloff-Grandits, Karl Kaser, Rolf Wörsdörfer, John Foot, Hans Oversloot, Dietrich Thränhardt, Raymond Fagel, Jean-François Berdah, Martin Papenheim, Damaris Lüthi, Jan Eivind Myhre, Claudius H. Riegler, Per-Olof Grönberg, Stefan Kroll, Alain-Jacques Czouz-Tornare, Matthias Asche, Jane Helleiner, Yasemin Karakaşoğlu, Reinhold Reith, Roman Spiss, Kerstin S. Jobst, Detlef Brandes, Ida Simon-Barouh, Sanda Gruner-Domić, Olaf Beuchling, Martin Bossenbroek, Pascal Goek
Please note that this file is password protected. You will be asked to input your password on the next screen.
»
Proceed
You are now leaving the Cambridge University Press website. Your eBook purchase and download will be completed by our partner www.ebooks.com. Please see the permission section of the www.ebooks.com catalogue page for details of the print & copy limits on our eBooks.
Continue
×