Look Inside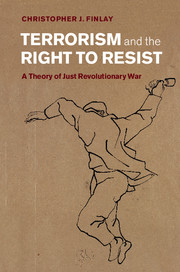 Terrorism and the Right to Resist

A Theory of Just Revolutionary War
AUD$127.95 inc GST
Publication planned for:

September 2019

availability:

Temporarily unavailable - available from September 2019

format:

Hardback

isbn:

9781107040939
AUD$
127.95
inc GST
Hardback
Description
Product filter button
The words 'rebellion' and 'revolution' have gained renewed prominence in the vocabulary of world politics and so has the question of justifiable armed 'resistance'. In this book Christopher J. Finlay extends just war theory to provide a rigorous and systematic account of the right to resist oppression and of the forms of armed force it can justify. He specifies the circumstances in which rebels have the right to claim recognition as legitimate actors in revolutionary wars against domestic tyranny and injustice, and wars of liberation against wrongful foreign occupation and colonialism. Arguing that violence is permissible only in a narrow range of cases, Finlay shows that the rules of engagement vary during and between different conflicts and explores the potential for irregular tactics to become justifiable, such as non-uniformed guerrillas and civilian disguise, the assassination of political leaders and regime officials, and the waging of terrorist war against civilian targets.

Provides a theory with which to guide moral and political evaluation of political violence by non-state groups
Presents a theory of the ethics of armed rebellion consistent with liberal-democratic political and moral commitments, exploring the ethical consequences of a sincere attachment to moral rights against oppression
Applies the theory of just war to non-state parties engaged in armed rebellion and revolution

Read more

Reviews & endorsements

'Finlay's book fills an embarrassing gap in the just war literature, giving the difficult topic of the ethics of armed resistance against oppression the attention it deserves. The writing is lucid and the analysis is systematic and thoughtful. Anyone writing on these issues will have to take his view into account.' Allen Buchanan, Duke University, North Carolina

'Finlay offers a lucid, persuasive and comprehensive extension of revisionist just war theory to cases of resistant violence. This will be compulsory reading for anyone interested in the ethics of revolutionary violence, partisan warfare and terrorism.' Kimberly Hutchings, Queen Mary, University of London

'Finlay's Terrorism and the Right to Resist is the single best work to date on the morality of wars of revolution or insurgency. Although it is a tightly argued work of analytic philosophy, the range of Finlay's scholarship is very broad. Rejecting many of the elements of the traditional theory of the just war, he works mainly within the framework of a revisionist understanding of the morality of war. Yet he also draws on resources, such as the writings of Arendt and Fanon, developed outside the analytic tradition. His arguments are richly informed by a wide knowledge of the law of armed conflict, the history of war, and political theory. This timely and important book is in all respects an enormously impressive achievement.' Jeff McMahan, White's Professor of Moral Philosophy, University of Oxford

'… Finlay's 'nuanced, careful' but rigorous approach … is exactly what the subject requires. It becomes plain that important issues of moral and political philosophy are engaged with … modern conflict is increasingly asymmetric, setting states against a variety of non-state opponents. Finlay's study embraces non-violent resistance to the state (as a possible option), rebellion and revolution. Terrorism, though, as Žižek's summons to arms shows, is probably best regarded as a means to an end, however ill-defined that end may be … [this book] is for those willing to follow a sustained argument, whether or not they agree with the conclusions, and in that [Finlay] undoubtedly succeeds.' David Bentley, International Affairs

'Christopher J. Finlay's new book is a sophisticated account of the ethics of revolutionary violence. … those working on the ethics of revolution will benefit by considering carefully his views.' Eamon Aloyo, Global Governance

'Christopher J. Finlay provides in his book a systematic account of the ethics of armed resistance … His account contributes to the growing post-Walzerian revisionism about the morality of war (led chiefly by Jeff McMahan). Yet it carves its own distinctive space by rejecting the notion, which many revisionists seem to implicitly accept, that we can morally evaluate armed conflicts simply by doing normative ethics; rather, Finlay recognizes that morally evaluating armed conflicts in general and armed resistance in particular requires doing political theory as well … The result is a vital, original contribution not only to the ethics of revolutionary violence but to the morality of war writ large … Finlay has provided a much-needed and outstanding contribution to the ethics of war.' Saba Bazargan-Forward, Ethics

'This is an in-depth, systematic study of an important and timely dimension of the phenomenon of violent resistance or rebellion. After a brief period in the post-Cold War era, in which many were lulled into believing we had entered a stage of democratic transition and the abandonment of guerilla war and terrorist tactics (by the IRA, the ANC and the PLO), we are now back to considering the ethics of armed force as it is used in the struggle to secure human rights against domestic tyranny or foreign injustice.' Margaret Moore, Notre Dame Philosophical Reviews

'Who doesn't believe that people have a right to resist their rulers in at least some social contexts that may be described as 'oppressive', 'tyrannical', or 'unjust'? So starts Christopher J. Finlay's scholarly analysis of legitimate armed resistance. In the 300 pages that follow, Finlay presents a philosophically astute answer to his own question, which has all the virtues of first class scholarship: originality, provocativeness, exhaustiveness and analytical rigour … Finlay's book is priceless to anyone working on just war theory, and political violence in general.' Vittorio Bufacchi, Political Studies Review

'… informed by an extensive knowledge of international law and … richly illustrated with historical and contemporary examples of armed resistance [Finlay's] theory is topical, erudite, and fills a gap in the existing philosophical literature on war. … In sum, Finlay offers a timely contribution to the philosophy of war by significantly advancing the theory of revolutionary war.' Hadassa Noorda, Philosophy and Law

'… meticulously argued …' Dustin Ells Howes, Perspectives on Politics

'Finlay's book … adds a new dimension to the corpus of analytic philosophical writing on the ethics of war and provides a distinctive vantage point from which to think about insurgency … there is enough here to provide rewarding reading, whatever one's own thinking may be.' James Turner Johnson, Ethics and International Affairs

'… informed by an extensive knowledge of international law and … richly illustrated with historical and contemporary examples of armed resistance [Finlay's] theory is topical, erudite, and fills a gap in the existing philosophical literature on war. … In sum, Finlay offers a timely contribution to the philosophy of war by significantly advancing the theory of revolutionary war.' Hadassa Noorda, Law and Philosophy

See more reviews

Customer reviews

Not yet reviewed

Be the first to review

Review was not posted due to profanity

×

Product details

Publication planned for:

September 2019

format:

Hardback

isbn:

9781107040939

length:

354

pages

dimensions:

229 x 152 x 21 mm

weight:

0.64kg

availability:

Temporarily unavailable - available from September 2019

Table of Contents

1. Introduction
Part I. Theory and Principles:
2. Justice, oppression and the right to resist
3. Rights worth killing for
4. The codes of resistance
5. Rights worth dying for: distributing the costs of resistance
Part II. Wars of Liberation: Fighting within the Standard JIB:
6. Non-state groups and the authority to wage war
7. Guerrilla war, discrimination and the problem of lawful irregulars
Part III. Fighting beyond the Law of War:
8. The partisan jus in bello: resistance beyond the laws of war
9. Terrorist war
10. Back to the start: the ethics of beginning
Conclusions.

Author

Christopher J. Finlay, University of Birmingham
Christopher J. Finlay is Reader in Political Theory in the Department of Political Science and International Studies at the University of Birmingham. He previously taught history at Trinity College Dublin and political philosophy at University College Dublin.
Please note that this file is password protected. You will be asked to input your password on the next screen.
»
Proceed
You are now leaving the Cambridge University Press website. Your eBook purchase and download will be completed by our partner www.ebooks.com. Please see the permission section of the www.ebooks.com catalogue page for details of the print & copy limits on our eBooks.
Continue
×