Look Inside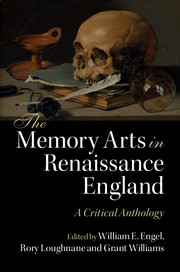 The Memory Arts in Renaissance England

A Critical Anthology
£70.99
Date Published:

August 2016

availability:

In stock

format:

Hardback

isbn:

9781107086814
Description
Product filter button
This is the first critical anthology of writings about memory in Renaissance England. Drawing together excerpts from more than seventy writers, poets, physicians, philosophers and preachers, and with over twenty illustrations, the anthology offers the reader a guided exploration of the arts of memory. The introduction outlines the context for the tradition of the memory arts from classical times to the Renaissance and is followed by extracts from writers on the art of memory in general, then by thematically arranged sections on rhetoric and poetry, education and science, history and philosophy, religion, and literature, featuring texts from canonical, non-canonical and little-known sources. Each excerpt is supported with notes about the author and about the text's relationship to the memory arts, and includes suggestions for further reading. The book will appeal to students of the memory arts, Renaissance literature, the history of ideas, book history and art history.

A critical anthology of over seventy writings and twenty illustrations
Each text is accompanied by an introduction and notes situating it within the intellectual and critical tradition
Gathers together the primary critical, historical and pictorial resources on memory in Renaissance England

Read more

Reviews & endorsements

'This admirable anthology of vernacular sources is far more than a compilation of technical treatises on the 'art of memory', but is rather a bold, interdisciplinary attempt to suggest the complexity of what the authors call 'English mnemonic culture'. Stretching from early sixteenth-century humanism to the Royal Society, this collection traces the 'mnemonic episteme' through works of literature, poetics, rhetoric, philosophy, medicine, history, religion, and the visual arts. From emblems to architecture, poetry to universal language projects, The Memory Arts in Renaissance England shows that the culture of early modern England was profoundly shaped by memory and mnemonic practices.' Stephen Clucas, Birkbeck, University of London

'Introductory students and advanced scholars alike will be grateful for this judicious yet capacious anthology - a veritable 'treasure-house of the mind'.' Scott Newstok, Director, Pearce Shakespeare Endowment, Rhodes College, Tennessee

'The Memory Arts in Renaissance England represents a great leap forward for early modern memory studies, and is an invaluable resource for scholars and students of memory and mnemonics across fields and periods. What Engel, Loughnane, and Williams convey in their superb introduction and throughout this comprehensive collection is the range and possibility of the memory arts, which includes rhetoric and poetics, education and science, history and philosophy, religion and devotion, and all genres of literature. This important and timely anthology provides the most complete picture of the Renaissance memory arts to date, and thus makes a significant contribution to the evolving and interdisciplinary field of memory studies.' Rebeca Helfer, University of California, Irvine

'The anthology thus provides new contexts for reading and teaching major authors, while also demonstrating the extraordinary depth and range of the early modern memory arts.' Philip Schwyzer, Renaissance Quarterly

'The Memory Arts in Renaissance England: A Critical Anthology, edited by William E. Engel, Rory Loughnane, and Grant Williams offers a resource ideally suited for classroom use. Following the splendid introductory essay, the volume's intelligent selection of excerpts covers a wide range of materials, from memory arts and rhetorical manuals to treatments of memory in diverse genres, including teaching manuals, historical and political treatises, and literary works.' Lowell Gallagher, SEL: Studies in English Literature 1500-1900

'The Memory Arts in Renaissance England [is a] wonderful compendium of excerpted texts ranging over two centuries, from 1509 to 1697. Its distinguished editors - William E. Engel, Rory Loughnane, and Grant Williams - have divided the collection thematically. … Each part and excerpt comes with a helpful introduction, as does the volume as a whole. … The book does an excellent job imparting the visual literacies involved in mnemonics, thereby improving us as readers of images. … The collection more than fulfills its aim of surveying enough texts related to memory to provide a starting point for further research on the topic. … To all the memory experts and aficionados out there, this book is one to own and keep nearby.' Seventeenth-Century News

'The Memory Arts in Renaissance England is the first anthology of vernacular sources concerned with memory and the mnemonic arts in the English Renaissance, and it makes a valuable contribution toward conceptualizing the cultural role played by memory in the sixteenth and seventeenth centuries … The collection is so wide-ranging and authoritative it can serve as an important reference for specialists in rhetorical theory or memory studies, yet the anthology's introductions and notes render it assessable enough to assign in a graduate seminar. The Memory Arts in Renaissance England should provide access points into critical conversations for both scholars and students for decades to come.' Sixteenth Century Journal

'… [The Memory Arts in Renaissance England] includes a range of interesting sources on the use of the memory arts in Renaissance England with some helpful editorial guidance on their authors, and on the contexts within which they were writing … for the reception of the memory arts in England, this anthology has much to offer.' Michael Bath, Emblematica

See more reviews

Customer reviews

Not yet reviewed

Be the first to review

Review was not posted due to profanity

×

Product details

Date Published:

August 2016

format:

Hardback

isbn:

9781107086814

length:

392

pages

dimensions:

234 x 156 x 22 mm

weight:

0.74kg

contains:

24 b/w illus.

availability:

In stock

Table of Contents

List of figures
List of tables
Acknowledgements
A note on abbreviations
Introduction
Part I. The Art of Memory: Introduction to Part I
1.1 Stephen Hawes, The Pastime of Pleasure (1509)
1.2 [Laurence Andrewe], The Mirror of the World (1527)
1.3 Peter of Ravenna, The Phoenix (1548)
1.4 Guglielmo Gratarolo, The Castle of Memory (1562)
1.5 Hugh Plat, Jewel House of Art and Nature (1594)
1.6 William Basse, A Help to Memory and Discourse (1620)
1.7 John Willis, The Art of Memory (1621, 1661)
1.8 Henry Herdson, Ars Memoriae
the Art of Memory Made Plain (1651)
1.9 Richard Saunders, Art of Memory (1671)
1.10 Marius D'Assigny, The Art of Memory (1697)
Part II. Rhetoric and Poetics: Introduction to Part II
2.1 Anon., Table of Cebes (1531)
2.2 Thomas Wilson, The Art of Rhetoric (1553)
2.3 George Puttenham, The Art of English Poesy (1589)
2.4 Henry Peacham, The Garden of Eloquence (1593)
2.5 Philip Sidney, The Defence of Poesy (1595)
2.6 Francis Meres, Palladis Tamia (1598)
2.7 Samuel Daniel, Musophilus (1599)
2.8 Miles Sandys, Prudence (1634)
2.9 Ben Jonson, Timber, or, Discoveries (1641)
2.10 Alexander Ross, Mystagogus Poeticus (1648)
Part III. Education and Science: Introduction to Part III
3.1 Thomas Elyot, The Governor (1531)
3.2 Roger Ascham, The Schoolmaster (1570)
3.3 Levinus Lemnius, The Touchstone of Complexions (1576)
3.4 William Kempe, The Education of Children (1588)
3.5 John Brinsley, Ludus Literarius (1612)
3.6 Robert Burton, The Anatomy of Melancholy (1621)
3.7 Thomas Sprat, The History of the Royal Society (1667)
3.8 John Wilkins, An Essay Towards a Real Character (1668)
3.9 Obadiah Walker, Of Education (1673)
3.10 Robert Hooke, 'An Hypothetical Explication of Memory' (1682)
Part IV. History and Philosophy: Introduction to Part IV
4.1 Lodowick Lloyd, The Pilgrimage of Princes (1573)
4.2 William Camden, Remains Concerning Britain (1605)
4.3 Francis Bacon, The Advancement of Learning (1605)
4.4 Pierre Charron, Of Wisdom (1608)
4.5 John Weever, Ancient Funeral Monuments (1631)
4.6 Edward Reynolds, A Treatise of the Passions and Faculties (1640)
4.7 Thomas Fuller, Selected Works
4.8 Kenelm Digby, Two Treatises (1644)
4.9 Thomas Hobbes, Leviathan (1651)
4.10 William Dugdale, Baronage of England (1675–76)
Part V. Religion and Devotion: Introduction to Part V
5.1 Thomas More, A Treatise (Unfinished) upon these Words of Holy Scripture (1522)
5.2 John Foxe, Acts and Monuments (1563)
5.3 Thomas Playfere, The Pathway to Perfection (1597)
5.4 Joseph Hall, Selected Works
5.5 Richard Day, Book of Christian Prayers (1608)
5.6 Daniel Featley, 'Four Rows of Precious Stones' (1610)
5.7 Lewis Bayly, The Practice of Piety (1613)
5.8 John Donne, 'Sermon, preached at Lincoln's Inn' (1649)
5.9 Stephen Jerome, A Ministers Mite (1650)
5.10 E. M., Ashrae (1665)
Part VI. Literature: Introduction to Part VI
Poetry
6.1 John Skelton, 'Upon a Dead Man's Head' (1527)
6.2 Edmund Spenser, The Faerie Queen (1590)
6.3 Anthony Sherley, Wit's New Dial (1604)
6.4 Richard Niccols, Mirror for Magistrates (1610)
6.5 Abraham Holland, 'A Funeral Elegy' (1626)
6.6 George Herbert, The Temple (1633)
6.7 Francis Quarles, Emblems (1635)
6.8 Mary Fage, Fame's Rule (1637)
6.9 Margaret Cavendish, Selected Works
6.10 John Milton, Paradise Lost (1674)
Plays and prose
6.11 Thomas Nashe, The Unfortunate Traveller (1594)
6.12 William Shakespeare, Selected Works
6.13 John Webster, Selected Works
6.14 Thomas Tomkis, Lingua: or the Combat of the Tongue (1607)
6.15 Mary Wroth, Urania (1621)
6.16 John Earle, Microcosmography (1628)
6.17 John Jones, Adrasta (1635)
6.18 Thomas Browne, Hydriotaphia, Urn-Burial (1658)
6.19 Anon., Crackfart and Tony
or, Knave and Fool (1680)
6.20 John Bunyan, The Pilgrim's Progress (1681)
Index.

Editors

William E. Engel, University of the South, Sewanee, Tennessee
William E. Engel is Nick B. Williams Professor of Literature at the University of the South, Sewanee, Tennessee. He is the author of several books, including Early Modern Poetics in Melville and Poe: Memory, Melancholy, and the Emblematic Tradition (2012). He is also on the editorial board of Renaissance Quarterly.

Rory Loughnane, Indiana University–Purdue University, Indianapolis
Rory Loughnane is Assistant Research Professor in the Indiana University School of Liberal Arts at Indiana University - Purdue University Indianapolis (IUPUI) and Associate Editor of the New Oxford Shakespeare. He is the co-editor of Late Shakespeare, 1608–1613 (with Andrew J. Power, Cambridge, 2013), Celtic Shakespeare: The Bard and the Borderers (with Willy Maley, 2013) and Staged Transgression in Shakespeare's England (with Edel Semple, 2013).

Grant Williams, Carleton University, Ottawa
Grant Williams is Associate Professor of English at Carleton University, Canada. He is the co-editor of Forgetting in Early Modern English Literature and Culture: Lethe's Legacies (with Christopher Ivic, 2004), Ars Reminiscendi: Mind and Memory in Renaissance Culture (with Donald Beecher, 2009) and Taking Exception to the Law: Materializing Injustice in Early Modern English Literature (with Donald Beecher, Travis DeCook and Andrew Wallace, 2015).
Please note that this file is password protected. You will be asked to input your password on the next screen.
»
Proceed
You are now leaving the Cambridge University Press website. Your eBook purchase and download will be completed by our partner www.ebooks.com. Please see the permission section of the www.ebooks.com catalogue page for details of the print & copy limits on our eBooks.
Continue
×