Look Inside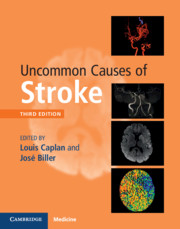 Uncommon Causes of Stroke
3rd Edition
$172.00 USD
Editors:

Louis Caplan

,

Beth Israel-Deaconess Medical Center, Boston

José Biller

,

Loyola University Stritch School of Medicine, Chicago
Larry E. Davis, Glenn D. Graham, Sarosh M. Katrak, Marc A. Bouffard, Louis R. Caplan, Oscar H. Del Brutto, John J. Halperin, Jonathan Lipton, Michael J. Rivkin, Ayrton R. Massaro, Kathleen Bateman, Alan Bryer, Kanjana S. Perera, Ian Moffatt, Robert G. Hart, Maria A. Nagel, Don Gilden, Mathieu Zuber, Sachin Kedar, James J. Corbett, Yukito Shinohara, Emre Kumral, Jay Shah, Chandni P. Kalaria, Barney J. Stern, Pamela N. Correia, Julien Morier, Patrik Michel, Michel Logak, Hugues Chabriat, Toshio Fukutake, Hyacinth I. Hyacinth, Robert Adams, Panayiotis D. Mitsias, Steven R. Levine, Luís Cunha, Joᾶo Sargento-Freitas, Chin-Sang Chung, Mi Ji Lee, E. Steve Roach, N. Paul Rosman, Russell P. Saneto, Catherine Amlie-Lefond, Anne Comi, Giovanna S. Manzano, Luca Regli, Amir R. Dehdashti, Harish Babu, Wouter I. Schievink, Kelly D. Flemming, Robert D. Brown, Krassen Nedeltchev, Heinrich P. Mattle, Lenora M. Lehwald, John H. Menkes, Stephen D. Reck, Jonathan D. Trobe, Anna Bersano, Gloria Bedini, Stephanie Ahrens, Margie A. Ream, Samuel Bidot, Valérie Biousse, Marc D. Reichhart, Marc C. Patterson, Ignacio García-Basterra, Thomas R. Hedges, Jonanna C. Jen, Robert W. Baloch, Christopher H. Topel, Robin L. Brey, Sanam Baghshomali, Monisha Kumar, Rochelle Sweis, Jose Biller, Ealaf Al Rabia, Bruce M. Coull, Jorge Moncayo-Gaete, Patricio Correa, Sean I. Savitz,, Manu Mehdiratta, Shamik Bhattacharyya, Martin A. Samuels, Sarah E. Nelson, Judith A. Hinchey, John F. Dashe, Fernando D. Testai, Philip B. Gorelick, John C. M. Brust, Susana Arias-Rivas, Manuel Rodríguez-Yáñez, Antonio Dávalos, José Castillo, Prad Selvan, Daniel M. Rosenbaum, Michael A. De Georgia, Diana Abdul-Rahman, Lauren James, Pedro Weisleder, Amre Nouh, Rima Dafer, Melissa G. Chung, Jacques L. De Reuck, Natan M. Bornstein, Alexander Y. Gur, Adrian Marchidann, Susan W. Law, Steven R. Levine, Chih-Ping Chung, Erik J. Uhlmann, Marcel Arnold, Mathias Sturzenegger, M. Edip Gurol, Steven M. Greenberg, Jong S. Kim, Oh Young Bang, Chang Wan Oh, David Rosenbaum-Halevi, David E. Thaler, Steven C. Cramer, Mark McAllister, José Manuel Ferro, Patrícia Canhao, Diana Aguiar de Sousa, Aneesh B. Singhal, Jennifer J. Majersik, Michael W. Varner, Kathleen B. Digre, Alicia M. Zha, Soma Sengupta
View all contributors
Date Published:

June 2018

availability:

This ISBN is for an eBook version which is distributed on our behalf by a third party.

format:

Adobe eBook Reader

isbn:

9781108652469

Find out more about Cambridge eBooks
$
172.00 USD
Adobe eBook Reader
You will be taken to ebooks.com for this purchase
Buy eBook
Add to wishlist
Other available formats:
Hardback
---
Looking for an inspection copy?
This title is not currently available on inspection
Description
Product filter button
Now in its third edition, this essential and detailed guide provides wide-ranging support for those diagnosing, treating and assessing complex types of cerebrovascular diseases, in a high pressure, time-constrained environment. Authored by leading clinicians in the field of neurology, and supported by advanced in brain-mapping technologies, this cutting-edge manual provides physicians, neurologists and emergency practitioners at all levels with a vital commentary on those relatively uncommon types of cerebrovascular disease that can lead to patients suffering a stroke. This new edition offers chapter-by-chapter imaging findings, evaluation and management advice, alongside insights into new topics such as CARASIL, sickle cell disease, radiation-induced cerebrovascular disease and blue rubber bleb syndrome. Updated and thorough, the guide provides a clear presentation on the nature, diagnosis, and treatment of everyday symptoms, through to more specialised cases. Building upon existing experience, practitioners can confidently assess patient needs, and correctly diagnose symptoms first time.

Includes up-to-date and niche research into complex causes of stroke
The most extensive and wide-ranging volume available on the topic
Authored by clinicians who have first-hand experience in diagnosing and assessing rare causes of stroke
A ready source of information

Read more

Reviews & endorsements

'The third edition of Uncommon Causes of Stroke, edited by Louis Caplan and José Biller, is a comprehensive reference manual that belongs on the bookshelf of providers who care for patients with cerebrovascular diseases.' Cathy Sila, Stroke Journal

Customer reviews

Not yet reviewed

Be the first to review

Review was not posted due to profanity

×

Product details

Edition:

3rd Edition

Date Published:

June 2018

format:

Adobe eBook Reader

isbn:

9781108652469

availability:

This ISBN is for an eBook version which is distributed on our behalf by a third party.

Table of Contents

Part I. Infectious Conditions:
1. Neurosyphilis and stroke
2. Vasculitis and stroke due to tuberculosis
3. Stroke due to fungal infections
4. Stroke and vasculitis in patients with cysticercosis
5. Stroke in patients with bacterial meningitis with a focus on pneumococcus and Lyme disease
6. Cerebrovascular and neurologic complications of Kawasaki disease
7. Cerebrovascular problems in Chagas' disease
8. Stroke in persons infected with HIV
9. Infective endocarditis
10. Varicella zoster and other virus-related cerebral vasculopathy
Part II. Inflammatory Conditions:
11. Primary angiitis of the CNS
12. Temporal arteritis
13. Takayasu disease
14. Behcet's disease
15. Stroke and neurosarcoidosis
Part III. Hereditary and Genetic Conditions and Malformations:
16. Pulmonary arteriovenous malformations
17. Hereditary hemorrhagic telangiectasia (OWR disease)
18. CADASIL
19. CARASIL
20. Sickle-cell disease and other hemoglobinopathies
21. Cerebrovascular complications of Fabry's disease
22. Marfan syndrome
23. Pseudoxanthoma elasticum
24. Ehlers–Danlos syndrome
25. Progeria
26. MELAS and other mitochondrial disorders
27. Sturge–Weber syndrome
28. Von Hippel–Lindau disease
29. Familial aneurysms
30. Cerebral cavernous malformations and developmental venous anomalies
31. Cerebrovascular manifestations of the neurofibromatosis
32. Menkes' disease
33. Wyburn-Mason syndrome
34. Divry–van Bogaert disease
35. Blue rubber bleb syndrome
Part IV. Vascular Conditions of the Eyes, Ear and Brain:
36. Eales retinopathy
37. Acute posterior multifocal placoid pigment epitheliopathy
38. Microangiopathy of the retina, inner ear and brain: Susac's syndrome
39. Hereditary endotheliopathy with retinopathy, nephropathy and stroke
40. Cogan's syndrome
Part V. Disorders Involving Abnormal Coagulation:
41. Antiphospholipid syndrome
42. Disseminated intravascular disease
43. Bleeding disorders
44. Thrombophilia
45. Thrombotic thrombocytopenic purpura
46. Cerebrovascular complications of Henoch–Schonlein purpura
Part VI. Systemic Disorders that Also Involve the Cerebrovascular System:
47. Microscopic polyangiitis and polyarteritis nodosa
48. Churg-Strauss syndrome
49. Systemic lupus erythematosus and cerebrovascular disease
50. Rheumatoid arthritis and cerebrovascular disease
51. Hyperviscosity and stroke
52. Calcium, hypercalcemia, magnesium and brain ischemia
53. Stroke and substance abuse
54. Cancer and paraneoplastic stroke
55. Degos' disease (malignant atrophic papulosis)
56. Stroke in patients who have inflammatory bowel diseases
57. Sweet syndrome
58. Nephrotic syndrome and other renal diseases and stroke
59. Epidermal nevus syndrome
60. Sneddon's syndrome
61. Bone disorders and cerebrovascular diseases
62. Scleroderma
63. Hypereosonophilic syndrome
64. Radiation-induced vascular disease
65. Lymphomatoid granulomatosis
Part VII. Non-Inflammatory Disorders of the Arterial Wall:
66. Cervico-cephalic arterial dissections
67. Cerebral amyloid angiopathies
68. Moyamoya disease and syndrome
69. Dilatative arteriopathy (Dolichoectasia)
70. Paradoxical embolism and stroke
71. Fibromuscular dysplasia
72. Aortic dissection
Part VIII. Venous Occlusive Conditions:
73. Cerebral venous sinus occlusions
Part IX. Vasospastic Conditions and other Miscellaneous Vasculopathies:
74. Reversible cerebral vasoconstriction syndromes
75. Eclampsia and stroke during pregnancy and the puerperium
76. Migraine and migraine-like conditions
77. Intravascular lymphoma.

Editors

Louis Caplan, Beth Israel-Deaconess Medical Center, Boston
Louis Caplan is Professor of Neurology at Harvard Medical School and Senior Physician on the Beth Israel Deaconess Medical Center Stroke Service. Previous Chair of the Stroke Council of the American Heart Association and Chair of the Boston and Chicago Neurological Societies, he is also an honorary member of the German, Australian, and Hong Kong Neurological Societies and the Korean Stroke Society.

José Biller, Loyola University Stritch School of Medicine, Chicago
José Biller is Professor of Neurology and Neurological Surgery and Chairperson of the Department of Neurology at Loyola University Chicago. Director of the American Board of Psychiatry and Neurology (1994–2001), and President in 2001, Dr Biller is a Fellow of the American Academy of Neurology, American Neurological Association, American College of Physicians, and the Stroke Council of the American Heart Association.

Contributors

Larry E. Davis, Glenn D. Graham, Sarosh M. Katrak, Marc A. Bouffard, Louis R. Caplan, Oscar H. Del Brutto, John J. Halperin, Jonathan Lipton, Michael J. Rivkin, Ayrton R. Massaro, Kathleen Bateman, Alan Bryer, Kanjana S. Perera, Ian Moffatt, Robert G. Hart, Maria A. Nagel, Don Gilden, Mathieu Zuber, Sachin Kedar, James J. Corbett, Yukito Shinohara, Emre Kumral, Jay Shah, Chandni P. Kalaria, Barney J. Stern, Pamela N. Correia, Julien Morier, Patrik Michel, Michel Logak, Hugues Chabriat, Toshio Fukutake, Hyacinth I. Hyacinth, Robert Adams, Panayiotis D. Mitsias, Steven R. Levine, Luís Cunha, Joᾶo Sargento-Freitas, Chin-Sang Chung, Mi Ji Lee, E. Steve Roach, N. Paul Rosman, Russell P. Saneto, Catherine Amlie-Lefond, Anne Comi, Giovanna S. Manzano, Luca Regli, Amir R. Dehdashti, Harish Babu, Wouter I. Schievink, Kelly D. Flemming, Robert D. Brown, Krassen Nedeltchev, Heinrich P. Mattle, Lenora M. Lehwald, John H. Menkes, Stephen D. Reck, Jonathan D. Trobe, Anna Bersano, Gloria Bedini, Stephanie Ahrens, Margie A. Ream, Samuel Bidot, Valérie Biousse, Marc D. Reichhart, Marc C. Patterson, Ignacio García-Basterra, Thomas R. Hedges, Jonanna C. Jen, Robert W. Baloch, Christopher H. Topel, Robin L. Brey, Sanam Baghshomali, Monisha Kumar, Rochelle Sweis, Jose Biller, Ealaf Al Rabia, Bruce M. Coull, Jorge Moncayo-Gaete, Patricio Correa, Sean I. Savitz,, Manu Mehdiratta, Shamik Bhattacharyya, Martin A. Samuels, Sarah E. Nelson, Judith A. Hinchey, John F. Dashe, Fernando D. Testai, Philip B. Gorelick, John C. M. Brust, Susana Arias-Rivas, Manuel Rodríguez-Yáñez, Antonio Dávalos, José Castillo, Prad Selvan, Daniel M. Rosenbaum, Michael A. De Georgia, Diana Abdul-Rahman, Lauren James, Pedro Weisleder, Amre Nouh, Rima Dafer, Melissa G. Chung, Jacques L. De Reuck, Natan M. Bornstein, Alexander Y. Gur, Adrian Marchidann, Susan W. Law, Steven R. Levine, Chih-Ping Chung, Erik J. Uhlmann, Marcel Arnold, Mathias Sturzenegger, M. Edip Gurol, Steven M. Greenberg, Jong S. Kim, Oh Young Bang, Chang Wan Oh, David Rosenbaum-Halevi, David E. Thaler, Steven C. Cramer, Mark McAllister, José Manuel Ferro, Patrícia Canhao, Diana Aguiar de Sousa, Aneesh B. Singhal, Jennifer J. Majersik, Michael W. Varner, Kathleen B. Digre, Alicia M. Zha, Soma Sengupta
Please note that this file is password protected. You will be asked to input your password on the next screen.
»
Proceed
You are now leaving the Cambridge University Press website. Your eBook purchase and download will be completed by our partner www.ebooks.com. Please see the permission section of the www.ebooks.com catalogue page for details of the print & copy limits on our eBooks.
Continue
×