Look Inside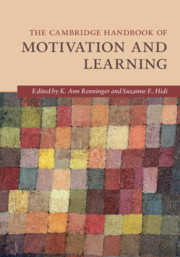 The Cambridge Handbook of Motivation and Learning
£145.00
Part of Cambridge Handbooks in Psychology
W. Schultz, Suzanne E. Hidi, K. Ann Renninger, G. Northoff, H. W. Marsh, M. Seaton, T. Dicke, P. D. Parker, M. S. Horwood, H. S. Ahn , M. Bong, C. Sansone, D. M. Geerling, D. B. Thoman, J. L. Smith; R. W. Larson, G. McGovern, C. Orson, K. Murayama; P. Anselme, M. J. F. Robinson; A. Dey, J. Gottlieb; D. T. Hickey, K. Schenke, E. A. Patall, S. Y. Hooper, M. Ito, C. Martin, M. Rafalow, K. S. Tekinbas, A. Wortman, R. C. Pfister, J. A. Alexander, K. E. Johnson, U. Trautwein, B. Roberts, B. Schwartz, A. Wrzesniewski, M. J. Gruber, A. Valji, C. Ranganath, J. Litman, D. Shin, H. J. Lee, G. Lee, S. Kim, T. Goetz, M. Krannich, N. C. Hall, J. Mugon, J. Danckert, J. Eastwood, K. Chiew, R. Alison Adcock, S. B. Nolen, M. Niemivirta, A. T. Pulkka, A. Tapola , H. Tuominen, E. Q. Rosenzweig, A. Wigfield, E. Canning, J. M. Harackiewicz, M. D. Ainley, J. Ainley, J. A. Fredricks, T. Hofkens, M. T. Wang, J. Kosovich, C. S. Hulleman, K. E. Barron, L. Linnenbrink-Garcia, S. V. Wormington, D. F. Shell, T. Flowerday
View all contributors
Date Published:

February 2019

availability:

Available

format:

Hardback

isbn:

9781107177932
Description
Product filter button
Written by leading researchers in educational and social psychology, learning science, and neuroscience, this edited volume is suitable for a wide-academic readership. It gives definitions of key terms related to motivation and learning alongside developed explanations of significant findings in the field. It also presents cohesive descriptions concerning how motivation relates to learning, and produces a novel and insightful combination of issues and findings from studies of motivation and/or learning across the authors' collective range of scientific fields. The authors provide a variety of perspectives on motivational constructs and their measurement, which can be used by multiple and distinct scientific communities, both basic and applied.

Chapters are written by leading researchers in neuroscience, educational and social psychology, and learning science
Offers insight into how motivation relates to engagement and positive learning outcomes
Allows researchers to expand their perspectives, and positions them to draw on a diverse range of fields in their own investigations
Includes definitions of key terms and developed explanations of significant findings for readers of varying backgrounds and interests

Read more

Reviews & endorsements

'This Handbook marks significant advances in our thinking about the connections between motivation and learning. It has much to commend it to readers as it generates synergies among areas that for the most part have operated independently.' Jennifer Archer, Program Convenor MTeach(Primary), MTeach(Secondary); Director Teaching Quality (SoE), University of Newcastle, Australia

'The Cambridge Handbook of Motivation and Learning is an impressive contribution that brings together many of the most important scientists in the field. The volume not only presents cutting-edge research but offers exciting perspectives on how to integrate theories and methodologies across disciplines, which is vital to overcoming the current fragmentation of research in this field.' Reinhard Pekrun, Chair of Personality and Educational Psychology, University of Munich, Germany

'This book has incredible range, bringing together top scholarship in the motivation sciences from neuroscience to classroom teaching and learning, from immediate decisions to lifespan development, and from enduring challenges to new opportunities in technology.' Christian Schunn, University of Pittsburgh

'Just how motivation interacts with learning and student performance is laid out from all perspectives in this authoritative Handbook. The authors have assembled superb experts from across the fields of neuroscience, psychology and education to address this important topic. This Cambridge Handbook is the ideal source on motivation and learning.' Kent Berridge, University of Michigan

See more reviews

Customer reviews

Not yet reviewed

Be the first to review

Review was not posted due to profanity

×

Product details

Date Published:

February 2019

format:

Hardback

isbn:

9781107177932

length:

822

pages

dimensions:

253 x 178 x 40 mm

weight:

1.77kg

contains:

34 b/w illus.

availability:

Available

Table of Contents

Foreword W. Schultz
Introduction: motivation and learning S. E. Hidi and K. A. Renninger
Part I. The Self and Its Impact:
1. Self-related information processing and its potential for educational benefit Suzanne E. Hidi, K. Ann Renninger and G. Northoff
2. Academic self-concept: its centrality in understanding motivation and learning H. W. Marsh, M. Seaton, T. Dicke, P. D. Parker and M. S. Horwood
3. Self-efficacy in learning: past, present, and future H. S. Ahn and M. Bong
4. Self-regulation of motivation: a renewable resource for learning C. Sansone, D. M. Geerling, D. B. Thoman and J. L. Smith
5. Youth development programs: supporting self-motivation in project-based learning R. W. Larson, G. McGovern and C. Orson
Part II. Rewards, Incentives, and Choice:
6. Neuroscientific and psychological approaches to incentives: commonality and multifaceted views K. Murayama
7. Incentive motivation: the missing piece between learning and behavior P. Anselme and M. J. F. Robinson
8. Attention, information-seeking, and active sampling: empirical evidence and applications for learning A. Dey and J. Gottlieb
9. Open digital badges and reward structures D. T. Hickey and K. Schenke
10. The promise and peril of choosing for motivation and learning E. A. Patall and S. Y. Hooper
Part III. Interest and Internal Motivation:
11. Interest development and learning K. Ann Renninger and Suzanne E. Hidi
12. Online affinity networks as contexts for connected learning M. Ito, C. Martin, M. Rafalow, K. S. Tekinbas, A. Wortman and R. C. Pfister
13. Multiple points of access for supporting interest in science J. A. Alexander and K. E. Johnson
14. Predicting academic effort: the conscientiousness x interest compensation (CONIC) model U. Trautwein and B. Roberts
15. Reconceptualizing intrinsic motivation: excellence as goal B. Schwartz and A. Wrzesniewski
Part IV. Curiosity and Boredom:
16. Curiosity and learning: a neuroscientific perspective M. J. Gruber, A. Valji and C. Ranganath
17. Curiosity: nature, dimensionality, and determinants J. Litman
18. The role of curiosity in learning and motivation D. Shin, H. J. Lee, G. Lee and S. Kim
19. Boredom T. Goetz, M. Krannich and N. C. Hall
20. The costs and benefit of boredom in the classroom J. Mugon, J. Danckert, and J. Eastwood
Part V. Goals and Values:
21. Motivated memory: integrating cognitive and affective neuroscience K. Chiew and R. Alison Adcock
22. Conceptualizing goals S. B. Nolen
23. Achievement goal orientations: a person-oriented approach M. Niemivirta, A. T. Pulkka, A. Tapola and H. Tuominen
24. Expectancy-value theory and its relevance for student motivation and learning E. Q. Rosenzweig and A. Wigfield
25. Utility value and intervention framing E. Canning and J. M. Harackiewicz
Part VI. Methods, Measures, and Perspective:
26. Motivation and learning: measures and methods M. D. Ainley and J. Ainley
27. Addressing the challenge of measuring student engagement J. A. Fredricks, T. Hofkens and M. T. Wang
28. Measuring motivation in educational settings: a case for pragmatic measurement J. Kosovich, C. S. Hulleman and K. E. Barron
29. An integrative perspective for studying motivation in relation to engagement and learning L. Linnenbrink-Garcia and S. V. Wormington
30. Affordances and attention: learning and culture D. F. Shell and T. Flowerday.

Authors

K. Ann Renninger, Swarthmore College, Pennsylvania
K. Ann Renninger is the Dorwin P. Cartwright Professor of Social Theory and Social Action, and Chair of the Department of Educational Studies at Swarthmore College, Pennsylvania.

Suzanne E. Hidi, University of Toronto
Suzanne E. Hidi is an Adjunct Professor in the Department of Curriculum, Teaching, and Learning, Ontario Institute for Research in Education at the University of Toronto, Canada.

Contributors

W. Schultz, Suzanne E. Hidi, K. Ann Renninger, G. Northoff, H. W. Marsh, M. Seaton, T. Dicke, P. D. Parker, M. S. Horwood, H. S. Ahn , M. Bong, C. Sansone, D. M. Geerling, D. B. Thoman, J. L. Smith; R. W. Larson, G. McGovern, C. Orson, K. Murayama; P. Anselme, M. J. F. Robinson; A. Dey, J. Gottlieb; D. T. Hickey, K. Schenke, E. A. Patall, S. Y. Hooper, M. Ito, C. Martin, M. Rafalow, K. S. Tekinbas, A. Wortman, R. C. Pfister, J. A. Alexander, K. E. Johnson, U. Trautwein, B. Roberts, B. Schwartz, A. Wrzesniewski, M. J. Gruber, A. Valji, C. Ranganath, J. Litman, D. Shin, H. J. Lee, G. Lee, S. Kim, T. Goetz, M. Krannich, N. C. Hall, J. Mugon, J. Danckert, J. Eastwood, K. Chiew, R. Alison Adcock, S. B. Nolen, M. Niemivirta, A. T. Pulkka, A. Tapola , H. Tuominen, E. Q. Rosenzweig, A. Wigfield, E. Canning, J. M. Harackiewicz, M. D. Ainley, J. Ainley, J. A. Fredricks, T. Hofkens, M. T. Wang, J. Kosovich, C. S. Hulleman, K. E. Barron, L. Linnenbrink-Garcia, S. V. Wormington, D. F. Shell, T. Flowerday
How young people are using online affinity networks to learn
Mimi Ito, author of 'Online affinity networks as contexts for connected learning' from The Cambridge Handbook of Motivation and Learning, speaks about her research on how online affinity networks can motivate young people to learn.
How can we accurately measure engagement?
Author of 'Addressing the challenge of measuring student engagement', Jennifer Fredricks, speaks about the findings and challenges from her chapter on how we can accurately measure engagement within an educational setting.
How can Youth Development Programs help to motivate teenagers?
Authors of 'Youth development programs: supporting self-motivation in project-based learning ' from The Cambridge Handbook of Motivation and Learning, R. W. Larson, G. McGovern and C. Orson, speak about how Youth Development Programs can motivate teens.
Please note that this file is password protected. You will be asked to input your password on the next screen.
»
Proceed
You are now leaving the Cambridge University Press website. Your eBook purchase and download will be completed by our partner www.ebooks.com. Please see the permission section of the www.ebooks.com catalogue page for details of the print & copy limits on our eBooks.
Continue
×