Look Inside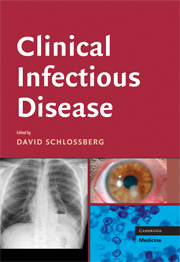 Clinical Infectious Disease
Burke A. Cunha, Carmen E. DeMarco, Rodger D. MacArthur, N. Cary Engleberg, Itzhak Brook, Jeanne Carey, Stephen G. Baum, Stephen I. Pelton, Charles D. Bluestone, Todd D. Otteson, Bridget Hathaway, Jennifer Rubin Grandis, Jonas T. Johnson, Souad Youssef, Ray Y. Hachem, Issam Raad, Anitra S. Birnbaum, Jeremy D. Gradon, Elmer Y. Tu, Francis S. Mah, Jules Baum, Sarah S. Zaher, Elizabeth Graham, Daniel M. Albert, Amol D. Kulkarni, Roy D. Brod, Harry W. Flynn Jr, Marlene L. Durand, John W. Sensakovic, Leon G. Smith, Aristides P. Assimacopoulos, Patrick M. Schlievert, Henry M. Feder Jr, Jane M. Grant-Kels, Joanne T. Maffei, Mandi P. Sachdeva, Kenneth J. Tomecki, Stephen Ash, Ellie J. C. Goldstein, William L. Krinsky, Evelyn K. Koestenblatt, Jeffrey M. Weinberg, David M. Brett-Major, Kenneth F. Wagner, Gustine Liu-Young, Gerald Friedland, Sanford Chodosh, Irmgard Behlau, Thomas M. File, Jr, Rebecca Edge Martin, Burke A. Cunha, Arash Heidari, Matthew Bidwell Goetz, Lisa L. Dever, Charlotte E. Bolton, Dennis J. Shale, Mashiul H. Chowdhury, Paola R. Solari, Richard A. Martinello, Michael Cappello, Catherine Diamond, Jeremiah G. Tilles, Keith S. Kaye, Ravi Karra, Susan E. Beekmann, David K. Henderson, Stacey A. Rizza, James M. Steckelberg, Harmit Kalia, Paul Martin, Michelle E. Freshman, Lawrence S. Friedman, Robert V. Rege, H. Franklin Herlong, Daniel Wolfson, Jamie S. Barkin, Joshua Forman, Jean-Pierre Raufman, Douglas R. Morgan, Robert L. Owen, Andrew T. Pavia, John G. Bartlett, Thomas C. Quinn, S. Frank Redo, Ronald Lee Nichols, James R. Korndorffer, Jr, Donald D. Trunkey, Naveed Saqib, Thomas R. Howdieshell, Linda A. Slavoski, Matthew E. Levison, Phillip B. Amidon, Georgios Pappas, Matthew E. Falagas, Sebastian Faro, Brandon Palermo, Thomas Fekete, Allan Ronald, Jonathan M. Zenilman, William J. Ledger, Henry M. Wu, Judith A. O'Donnell, Elias Abrutyn, Jack D. Sobel, Louise M. Dembry, Vincent T. Andriole, Shahbaz Hasan, James W. Smith, Richard H. Parker, Daniel P. Lew, Francis A. Waldvogel, Robert S. Pinals, Upinder Singh, Pamela A. Lipsett, Allan R. Tunkel, Burt R. Meyers, Mirella Salvatore, David N. Irani, Brian Wispelwey, Kristine M. Peterson, Mark J. DiNubile, Rodrigo Hasbun, Newton E. Hyslop, Jr, Omar Massoud, Rajiv R. Varma, Joseph R. Berger, Elizabeth E. Adderson, Patricia M. Flynn, Richard T. Johnson, Thomas A. Fleisher, Rafik Samuel, Amar Safdar, Donald Armstrong, Babafemi O. Taiwo, Robert L. Murphy, Raymund R. Razonable, Carlos V. Paya, Stefan Bughi, Sylvia J. Shaw, John Schmittner, Carlo Contoreggi, Laurel C. Preheim, Ahmad R. Nusair, Kent Crossley, Patrick G. Gallagher, Robert S. Baltimore, Raul E. Isturiz, Jorge Murillo, Peter Mariuz, Roy T. Steigbigel, Larry I. Lutwick, Amy Wecker, Monica Panwar, Fouad Bou Harb, Aaron E. Glatt, Dionissios Neofytos, Kathleen E. Squires, Samuel A. Shelburne III, Anthony Ogedegbe, Marshall J. Glesby, Judith A. Aberg, Nimalie D. Stone, John E. McGowan, Jr, Elise M. Beltrami, Denise M. Cardo, Susan K. Seo, Arthur E. Brown, William R. Jarvis, Virginia R. Roth, Dany Ghannam, Issam Raad, Lindsay E. Nicolle, E. Patchen Dellinger, Mark A. Malangoni, Isabella Rosa-Cunha, Gordon Dickinson, Roger W. Yurt, Rafael Gerardo Magaña, James P. Steinberg, Nadine G. Rouphael, Thomas L. Husted, Joseph S. Solomkin, Elaine C. Jong, Phyllis E. Kozarsky, Jay S. Keystone, Martin S. Wolfe, David J. Weber, George S. Ghneim, William A. Rutala, Steven C. Buckingham, Andrea K. Boggild, Mary Elizabeth Wilson, Karen J. Vigil, Herbert L. DuPont, Eleni Patrozou, Andrew W. Artenstein, Thomas A. Russo, Sydney M. Finegold, Boris Velimirovic, Craig J. .Hoesley, William A. Schwartzman, Sarah S. Long, Lisa S. Hodges, Joseph A. Bocchini, Jr, Carlos Carrillo, Eduardo Gotuzzo, David W. K. Acheson, Richard Quintiliani, Jr, Richard Quintiliani, Sr, Carlos H. Ramírez-Ronda, Carlos R. Ramírez-Ramírez, L. W. Preston Church, Ronald N. Jones, W. Lee Hand, Vivian
View all contributors
Date Published:

November 2012

availability:

This ISBN is for an eBook version which is distributed on our behalf by a third party.

format:

Adobe eBook Reader

isbn:

9781139574891

Find out more about Cambridge eBooks
Add to wishlist
Looking for an inspection copy?
This title is not currently available on inspection
Description
Product filter button
This clinically-oriented text focuses on the diagnostic protocols and treatment strategies with which physicians must be familiar when managing infectious disease patients. Informative algorithms, tables, and high-quality color photographs supplement many of the chapters in this conveniently-sized volume. The orientation of the volume is multi-faceted: in addition to the traditional organization of organ system and pathogen-related information, this text includes specific sections on the susceptible host (with individual chapters on the diabetic, the elderly, the injection drug user, and the neonate), travel-related infections, nosocomial infections, infections related to surgery and trauma, and bioterrorism. Informative algorithms, tables, and high-quality color photographs supplement many of the chapters. The convenient size of this book places it between the available encyclopedic tomes and the small pocket guides, making it a comprehensive but user-friendly and practical reference for the practising clinician.

Tables and algorithms summarize and facilitate diagnostic and therapeutic choices
Chapters written with a clinical orientation by authorities in the field
Complete antibiotic tables with doses, side effects, and other practical information

Read more

Reviews & endorsements

'The illustrations in all sections are excellent and a feature of the book is well laid out summary tables. … I would recommend this book as a welcome addition to the clinical laboratory and to the medical/clinical microbiologist.' Microbiology Today

'As an infectious disease fellowship program director, I frequently query fellows in my program to determine which of the shorter infectious disease textbooks and/or Internet sites they prefer as a quick review source. … a number of them have recommended this textbook as a source for brief reviews of topics. … this textbook has many qualities that encourage me to recommend it as an infectious disease topic textbook.' Clinical Infectious Diseases

See more reviews

Customer reviews

Not yet reviewed

Be the first to review

Review was not posted due to profanity

×

Product details

Date Published:

November 2012

format:

Adobe eBook Reader

isbn:

9781139574891

contains:

99 b/w illus. 229 colour illus. 542 tables

availability:

This ISBN is for an eBook version which is distributed on our behalf by a third party.

Table of Contents

Part I. Clinical Syndromes - General
Part II. Clinical Syndromes - Head and Neck
Part III. Clinical Syndromes - Eye
Part IV. Clinical Syndromes - Skin and Lymph Nodes
Part V. Clinical Syndromes - Respiratory Tract
Part VI. Clinical Syndromes - Heart and Blood Vessels
Part VII. Clinical Syndromes - Gastrointestinal Tract, Liver, and Abdomen
Part VIII. Clinical Syndromes - Genitourinary Tract
Part IX. Clinical Syndromes - Musculoskeletal System
Part X. Clinical Syndromes - Neurologic System
Part XI. The Susceptible Host
Part XII. HIV
Part XIII. Nosocomial Infection
Part XIV. Infections Related to Surgery and Trauma
Part XV. Prevention of Infection
Part XVI. Travel and Recreation
Part XVII. Bioterrorism
Part XVIII. Specific Organisms - Bacteria.

Editor

David Schlossberg, Temple University School of Medicine, Philadelphia
David Schlossberg, MD, FACP, is Professor of Medicine at Temple University School of Medicine in Philadelphia, Adjunct Professor of Medicine at the University of Pennsylvania School of Medicine in Philadelphia, and Director of the Tuberculosis Control Program for the Philadelphia Department of Public Health. He is a Fellow of the American College of Physicians and a Fellow of the Infectious Diseases Society of America. In addition to winning numerous teaching awards, he has been invited to lecture throughout the United States and East Asia. He is a reviewer for a number of medical journals, including the New England Journal of Medicine, Clinical Infectious Diseases, the Annals of Internal Medicine, The Journal of Infectious Disease, and JAMA, and has written or edited 20 books in the area of Infectious Disease.

Contributors

Burke A. Cunha, Carmen E. DeMarco, Rodger D. MacArthur, N. Cary Engleberg, Itzhak Brook, Jeanne Carey, Stephen G. Baum, Stephen I. Pelton, Charles D. Bluestone, Todd D. Otteson, Bridget Hathaway, Jennifer Rubin Grandis, Jonas T. Johnson, Souad Youssef, Ray Y. Hachem, Issam Raad, Anitra S. Birnbaum, Jeremy D. Gradon, Elmer Y. Tu, Francis S. Mah, Jules Baum, Sarah S. Zaher, Elizabeth Graham, Daniel M. Albert, Amol D. Kulkarni, Roy D. Brod, Harry W. Flynn Jr, Marlene L. Durand, John W. Sensakovic, Leon G. Smith, Aristides P. Assimacopoulos, Patrick M. Schlievert, Henry M. Feder Jr, Jane M. Grant-Kels, Joanne T. Maffei, Mandi P. Sachdeva, Kenneth J. Tomecki, Stephen Ash, Ellie J. C. Goldstein, William L. Krinsky, Evelyn K. Koestenblatt, Jeffrey M. Weinberg, David M. Brett-Major, Kenneth F. Wagner, Gustine Liu-Young, Gerald Friedland, Sanford Chodosh, Irmgard Behlau, Thomas M. File, Jr, Rebecca Edge Martin, Burke A. Cunha, Arash Heidari, Matthew Bidwell Goetz, Lisa L. Dever, Charlotte E. Bolton, Dennis J. Shale, Mashiul H. Chowdhury, Paola R. Solari, Richard A. Martinello, Michael Cappello, Catherine Diamond, Jeremiah G. Tilles, Keith S. Kaye, Ravi Karra, Susan E. Beekmann, David K. Henderson, Stacey A. Rizza, James M. Steckelberg, Harmit Kalia, Paul Martin, Michelle E. Freshman, Lawrence S. Friedman, Robert V. Rege, H. Franklin Herlong, Daniel Wolfson, Jamie S. Barkin, Joshua Forman, Jean-Pierre Raufman, Douglas R. Morgan, Robert L. Owen, Andrew T. Pavia, John G. Bartlett, Thomas C. Quinn, S. Frank Redo, Ronald Lee Nichols, James R. Korndorffer, Jr, Donald D. Trunkey, Naveed Saqib, Thomas R. Howdieshell, Linda A. Slavoski, Matthew E. Levison, Phillip B. Amidon, Georgios Pappas, Matthew E. Falagas, Sebastian Faro, Brandon Palermo, Thomas Fekete, Allan Ronald, Jonathan M. Zenilman, William J. Ledger, Henry M. Wu, Judith A. O'Donnell, Elias Abrutyn, Jack D. Sobel, Louise M. Dembry, Vincent T. Andriole, Shahbaz Hasan, James W. Smith, Richard H. Parker, Daniel P. Lew, Francis A. Waldvogel, Robert S. Pinals, Upinder Singh, Pamela A. Lipsett, Allan R. Tunkel, Burt R. Meyers, Mirella Salvatore, David N. Irani, Brian Wispelwey, Kristine M. Peterson, Mark J. DiNubile, Rodrigo Hasbun, Newton E. Hyslop, Jr, Omar Massoud, Rajiv R. Varma, Joseph R. Berger, Elizabeth E. Adderson, Patricia M. Flynn, Richard T. Johnson, Thomas A. Fleisher, Rafik Samuel, Amar Safdar, Donald Armstrong, Babafemi O. Taiwo, Robert L. Murphy, Raymund R. Razonable, Carlos V. Paya, Stefan Bughi, Sylvia J. Shaw, John Schmittner, Carlo Contoreggi, Laurel C. Preheim, Ahmad R. Nusair, Kent Crossley, Patrick G. Gallagher, Robert S. Baltimore, Raul E. Isturiz, Jorge Murillo, Peter Mariuz, Roy T. Steigbigel, Larry I. Lutwick, Amy Wecker, Monica Panwar, Fouad Bou Harb, Aaron E. Glatt, Dionissios Neofytos, Kathleen E. Squires, Samuel A. Shelburne III, Anthony Ogedegbe, Marshall J. Glesby, Judith A. Aberg, Nimalie D. Stone, John E. McGowan, Jr, Elise M. Beltrami, Denise M. Cardo, Susan K. Seo, Arthur E. Brown, William R. Jarvis, Virginia R. Roth, Dany Ghannam, Issam Raad, Lindsay E. Nicolle, E. Patchen Dellinger, Mark A. Malangoni, Isabella Rosa-Cunha, Gordon Dickinson, Roger W. Yurt, Rafael Gerardo Magaña, James P. Steinberg, Nadine G. Rouphael, Thomas L. Husted, Joseph S. Solomkin, Elaine C. Jong, Phyllis E. Kozarsky, Jay S. Keystone, Martin S. Wolfe, David J. Weber, George S. Ghneim, William A. Rutala, Steven C. Buckingham, Andrea K. Boggild, Mary Elizabeth Wilson, Karen J. Vigil, Herbert L. DuPont, Eleni Patrozou, Andrew W. Artenstein, Thomas A. Russo, Sydney M. Finegold, Boris Velimirovic, Craig J. .Hoesley, William A. Schwartzman, Sarah S. Long, Lisa S. Hodges, Joseph A. Bocchini, Jr, Carlos Carrillo, Eduardo Gotuzzo, David W. K. Acheson, Richard Quintiliani, Jr, Richard Quintiliani, Sr, Carlos H. Ramírez-Ronda, Carlos R. Ramírez-Ramírez, L. W. Preston Church, Ronald N. Jones, W. Lee Hand, Vivian
Please note that this file is password protected. You will be asked to input your password on the next screen.
»
Proceed
You are now leaving the Cambridge University Press website. Your eBook purchase and download will be completed by our partner www.ebooks.com. Please see the permission section of the www.ebooks.com catalogue page for details of the print & copy limits on our eBooks.
Continue
×